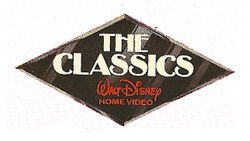 The Walt Disney Classics was a series of VHS releases of Disney animated features that spanned from 1984, with its very first release being Robin Hood, to 1994, with The Fox and the Hound; VCDs of this series were released from 1998 to 2003. Many Disney animated features made their home video debuts through this series. It is often referred to by fans as the "Black Diamond" collection, referring to the shape of the black diamond-shaped "Classics" logo seen on the spine of each video's case and at the beginning of each tape. Although the series initially consisted entirely of older Disney animated features, the success of The Little Mermaid led to more then-recent films being released as part of the collection.
History
Walt Disney Home Video released the Classics line in 1984 to release their animated films on home video in a brand name. Before resigning, the current Disney CEO at the time, Ron Miller, had plans to release their animated classics on home video. The older Disney executives still believed that releasing their animated films on home video would be a little bit risky.Even though they did release Dumbo, Alice in Wonderland, Fun and Fancy Free, and The Three Caballeros on home video around the early 1980s. The untouchable Disney Classics would usually be released in theaters around 7-10 years. And the executives thought that if they had the film on videocassette already, they would not go to the movie theater to see it. Plus, it would gamble away from future theatrical revenue. But by 1984, Walt Disney Home Video was getting more popular, so they decided to release Robin Hood on home video to begin their new Classics line. The reason that this was the first is that Robin Hood wasn't one of the most popular Disney animated classics at the the time, so it wouldn't be that that much of a risk to release that film on home video. Robin Hood was a small success on home video. It costs $79.95 on VHS and Betamax at the time, with the laser disc release costing around $34.95. The tape was also part of Disney's wrap and ready-to-give promotion, since it was released a few weeks before Christmas Day. It was known to be on of the best-selling home video titles in 1984.
Releases
Gallery
Logos
See also
External links
v - e - dWalt Disney home video releases
Community content is available under
CC-BY-SA
unless otherwise noted.