Spider-Man: No Way Home Trailer Dropped - The Loop
Play Sound
The eighth wave of Walt Disney Treasures was released on November 11, 2008. In this wave, the flap in the case was removed, and the discs are stored on top of each other.
The Chronological Donald, Volume Four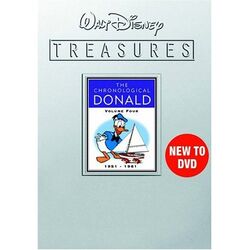 This set is the final volume on Donald and contains the remaining Donald shorts and featurettes from 1951-1961. However, it leaves out the three Chip 'n' Dale solo shorts, the 1965 commercial featurette Steel and America, the 1966 educational short Donald's Fire Survival Plan, the loosely-related 1967 educational featurette Scrooge McDuck and Money, which is notable for featuring Uncle Scrooge for the first time in a starring role in an animated short, and the 1967 educational short Family Planning, which is Donald's final cartoon short appearance.
The cartoon Bee on Guard is missing the last 5 seconds of footage for reasons unknown. Recently, Disney has started issuing replacement discs correcting this error.
39,500 sets produced.
Disc one
1951
1952
1953
From the Vault
Disc two
Shorts marked with an asterisk are presented in their original CinemaScope format and are enhanced for widescreen televisions
1954
1955
1956
1959
1961
From the Vault
Bonus features
"Donald Goes to Press"
"The Unseen Donald Duck: Trouble Shooters" (1946)*
Leonard Maltin and Jerry Beck audio commentaries on Working for Peanuts and Grand Canyonscope
10 Mickey MouseWorks/House of Mouse Cartoons (1999-2001)
(*) The storyboard of this unmade cartoon is from 1946.
39,500 sets produced.
Disc one
The Scarecrow of Romney Marsh: Part 1 First broadcast February 9, 1964
The Scarecrow of Romney Marsh: Part 2 First broadcast February 16, 1964
The Scarecrow of Romney Marsh: Part 3 First broadcast February 23, 1964
Disc two
Dr. Syn, Alias The Scarecrow: Feature length version released in cinemas in the United Kingdom on December 12, 1963
Bonus features
"Dr. Syn: The History of the Legend"
Walt Disney TV introductions in widescreen
"Walt Disney: From Burbank to London"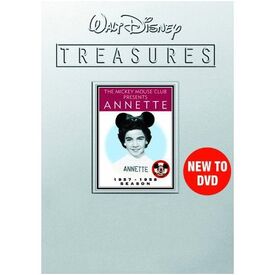 39,500 sets produced.
Disc one
Episodes 1–10 first broadcast February 10-February 21, 1958
Disc two
Episodes 11–20 first broadcast February 24-March 7, 1958
Bonus features
Two bonus Mickey Mouse Club episodes
Musically Yours, Annette
To Annette With Love
External links