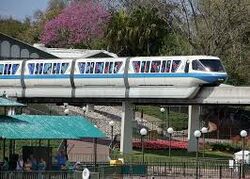 The
Walt Disney World Monorail System
is a 14.7-mile
monorail
system that operates at the
Walt Disney World
in
Lake Buena Vista, Florida
. It began operation on
October 1
,
1971
, and is the largest of the three Disney theme park monorail systems around the world, and consists of three lines.
Lines
Express
The Express line provides express service between the Transportation and Ticket Center and Magic Kingdom. It shares the same route as the Resort line, but travels counterclockwise on the outside track.
Stations
Resort
The Resort line is a round-trip line that services the Magic Kingdom and resorts in the surrounding area. It shares the same route as the Express line, but travels clockwise on the inside track.
Stations
Epcot
The Epcot line consists of an entirely separate route than the other two lines, traveling south from the TTC to Epcot. This line opened on October 1, 1982.
Stations
Spur Line
The Spur Line is not a revenue line, and is instead used to access the monorail barn, which is housed in a two-story building behind Fantasyland. The first floor serves as the enginehouse for the Walt Disney World Railroad.
During construction, this line was intended as a spur line to serve Disney's Persian Resort, which never came to fruition. Early drawings showed that the line would have split off again past the Persian Resort and have gone through Tomorrowland, which would have been against Walt Disney's wishes to keep the monorail out of the Magic Kingdom.
Future Expansion
At this time, there are no plans to expand the monorail system, mainly due to the prohibitive costs, an issue demonstrated by the overbudget Las Vegas Monorail. A common misconception is that it would cost $1 million per mile to build an extension. The truth, however, is that if Disney could add 10 miles to the system for $10 million, it would immediately jump at the opportunity.
Trains
The Walt Disney World Monorail System has utilized two different train models since its opening in 1971:
Gallery
See also
Community content is available under
CC-BY-SA
unless otherwise noted.