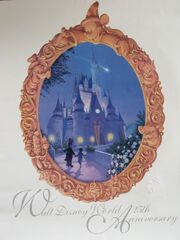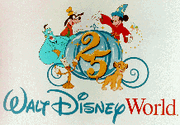 The Walt Disney World Resort 25th Anniversary celebrations ran from October 1, 1996 to January 31, 1998. Cinderella Castle was transformed into a giant pink birthday cake, topped with faux icing, lollipops and gum drops. The castle also had 26 candles for 25 years and one to grow on. The 25th anniversary in the Magic Kingdom featured speeches by Roy E. Disney, then-CEO Michael Eisner and then-first lady Hillary Rodham Clinton, as well as a thundering flyover by U.S. military jets. The celebration was marked in a great many ways, from the free "Guest of Honor" badges, 25th anniversary lithographs, and new 25th anniversary placards and banners around the parks. A new parade was also unveiled, called The "Remember the Magic" parade which was an entirely new kind of street-theater performance with a "stop-action" twist. Six giant floats (up to 55 feet long and 22 feet high) roll down Main Street, U.S.A., each afternoon loaded with famous Disney characters and surrounded by dancers and colorfully costumed performers singing the 25th anniversary theme song, "Remember the Magic."
Videos
Community content is available under
CC-BY-SA
unless otherwise noted.