Wander Over Yonder is an American animated comedy Disney Channel Original Series produced by Disney Television Animation for Disney Channel.
The show's creator and executive producer is Craig McCracken. His wife Lauren Faust serves as co-producer and story editor.
The series officially premiered on August 16, 2013. On February 16, 2014, it was announced that Wander Over Yonder premieres will leave Disney Channel, and move to Disney XD starting in spring 2014, similar with what happened with most of Phineas and Ferb's second season. It started airing on Disney XD on March 31, 2014. However, the series returned to Disney Channel on July 11, 2014, as new episodes as part of the channel's "Disney XD on Disney Channel" block.
On June 23, 2014, Disney renewed Wander Over Yonder for a second season.[1] A set of 11 one-minute shorts were aired on the network starting in July 20, 2015, in promotion of the second season, which premiered on August 3, 2015.
On March 5, 2016, Craig McCracken announced that the show will not be returning for a third season and that the second season will be the series' last. He stated that he had plans to continue producing the show, but Disney declined to order more episodes. The half-hour series finale "The End of the Galaxy" aired on June 27, 2016 on Disney XD.
Plot
Main article: Wander Over Yonder episode list
The series follows Wander: an overly-optimistic intergalactic traveler and his steed Sylvia traveling from planet to planet helping people have fun and live free, all against Lord Hater and his army of Watchdogs' evil reign.
Lord Hater is the most powerful villain in the universe with Commander Peepers serving as his second in command and leader of the Watchdog Army.
Similar to Seinfeld and The Amazing World of Gumball, the episodes start with the article "The". Most episodes usually begin by showing an overview of the planet the episode takes place on.
In the credits sequence of each episode, there is an animatic of a scene in the episode, usually an extended version of the scene or an extra one.
Development
The show's creator and executive producer, Craig McCracken, previously created the Emmy-winning Cartoon Network series The Powerpuff Girls and Foster's Home for Imaginary Friends, arguably some of the biggest successes from Cartoon Network. Lauren Faust serves as co-producer and story editor. This was McCracken's first television show outside Cartoon Network and his first animated television series for Disney Channel.
The eponymous character, Wander, made his debut on sketchbooks, clothes and patches that McCracken sold at conventions. McCracken described Wander as a "nomadic, hippie, muppet man."
A sneak peek of the series aired at Comic-Con International 2012 for Disney Channel. The first promo aired on July 19, 2013 during the premiere of Teen Beach Movie. The series premiered with the episode, "The Picnic", on August 16, 2013 after Phineas and Ferb: Mission Marvel, with the episodes "The Egg" and "The Greatest" on September 13, 2013.
Characters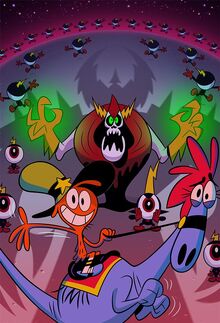 The main characters of the series travel to phantasmagoric places across the universe. The eponymous character, Wander, made his debut on a sketchbooks, clothes and patches that McCracken sold at conventions. McCracken described Wander as a "nomadic, hippie, muppet man."
Wander (Jack McBrayer), He is very optimistic, friendly and in ways annoying. He aspires to explore different worlds, discover new things, and help people have fun and live free, all against Lord Hater and his army of Watchdogs' evil reign. Wander is an orange being of an indiscriminate species, with a furry-like stomach. He has large, expressive eyes with black pupils. He has three black stripes of beard hair on his chin. He is usually seen with a big floppy green hat with a black stripe above the brim and a yellow star located on the black stripe. The inside of his hat seems to be black as well. He also wears light blue shoes with white eaglets, and a black stripe in the middle of the shoes. He is always seen with a smile. Despite his positive nature and beliefs, Wander is often oblivious to danger as well as Hater's aggressive nature.
Sylvia (April Winchell), Wander's loyal, although bullish, steed and best friend, who explores and travels the universe with him. She enjoys fighting although her love of roughness cause to come off as ill-tempered, inconsiderate and reckless at times although she has a softer side. Sylvia is blue with a long neck, stubby arms, and big expressive eyes. She has a black rein wrapped around her muzzle and a big floppy tuft of bright pink hair jutting upward from her head, matching the tuft of fur on the tip of her tail. While she is sometimes referred to as Wander's horse, she is actually one of a species called "Zbornak."
Antagonists
Recurring
Emperor Awesome (Sam Riegel), a preening, flamboyant cool-dude shark-like man, and is one of Lord Hater's greatest nemesis as well as his arch rival in universal conquest. He has his own minions he calls "The Fist Fighters".
Sir Brad Starlight (James Marsden), a character that appeared in the Hero and the enemies.
Trudie Traveler (Edie McClurg) a female traveler that appeared in the Tourist.
Captain Tim (Fred Tatasciore), an alien spider that Wander discovers on an abandoned spaceship.
Minor
Voice Cast
Main Cast
Recurring Cast and Additional voices
Charlie Adler - Stok
Clancy Brown - Badlands Dan
Corey Burton - Captain, Various
Fred Tatasciore - Beast, Captain Tim, Snailman the Mailman, Various
Gedde Watanabe
Grey DeLisle - Little Girl, Various
Jeff Bennett - Harvax, Various
Kari Wahlgren - Janet
Kevin Michael Richardson - Papa Doom, Glen, Various
Rene Auberjonois - Maurice
Sam Riegel - Emperor Awesome, Various
Steve Blum - General Outrage, Various
Special Guest stars
Home Video Releases
While the show lacks any physical home video releases, Wander Over Yonder has been mostly available for purchase on digital platforms such as Amazon Prime. [2] On May 7, 2021, both seasons were made available on Disney+.
Reception
Wander Over Yonder was highly praised trough out its run from both critics and audiences, for its memorable characters, incredible art direction and its writing being both hilarious and emotional at the same time.
Sadly the show did not have the audience numbers that it needed and got mostly overshadowed by other Disney Channel/Disney XD cartoons at time, like Gravity Falls, and even by those who came out while the show was running, like Star vs. the Forces of Evil, likely as a consequence of Wander Over Yonder lacking an overarching story like the two previously mentioned shows, especially after the show moved to Disney XD which caused a massive drop in ratings during the show's second season, which is unfortunate as many would argue this season outdid the first one in terms of quality, and incorporated an overarching story arc in the form of the character of Lord Dominator.
As a consequence of this, a third season ended up being cancelled due to Disney's lack of interest in the show, against the wishes of Craig McCracken. Despite this, there had been multiple petitions and requests from fans in an attempt to continue the show, although this seemed to do very little to change Disney's mind.
Videos
Interviews/Comic-Con 2012
Promos
Gallery
Year
Award
Category
Nominee
Result
2014
41st Annie Awards
Outstanding Achievement, Character Design in an Animated TV/Broadcast Production[3]
Craig McCracken
Nominated
Outstanding Achievement, Music in an Animated TV/Broadcast Production[3]
Andy Bean
Nominated
2015
42nd Annie Awards
Best Animated TV/Broadcast Production For Children's Audience[4]
Wander Over Yonder
Nominated
Outstanding Achievement, Character Animation in an Animated Television/Broadcast Production[5]
Justin Nichols
Won
Outstanding Achievement, Character Design in an Animated TV/Broadcast Production[5]
Benjamin Balistreri
Won
Outstanding Achievement, Directing in an Animated TV/Broadcast Production[4]
Dave Thomas
Nominated
Outstanding Achievement, Production Design in an Animated TV/Broadcast Production[4]
Alex Kirwan, Chris Tsirigotis, Alexander Duckworth, Janice Kubo & Francis Giglio
Nominated
Outstanding Achievement, Storyboarding in an Animated TV/Broadcast Production[4]
Mark Ackland
Nominated
67th Primetime Emmy Awards
Outstanding Short-Format Animated Programming[6]
"The Gift 2: The Giftening"
Nominated
2016
43rd Annie Awards
Best Animated TV/Broadcast Production For Children's Audience[7]
"The Breakfast"
Won
Outstanding Achievement, Character Animation in an Animated Television/Broadcast Production[8]
Justin Nichols (for "The Good Bad Guy")
Nominated
Outstanding Achievement, Music in an Animated TV/Broadcast Production[8]
Andy Bean (for "The Black Cube")
Nominated
Outstanding Achievement, Storyboarding in an Animated TV/Broadcast Production[8]
Justin Nichols (for "The Breakfast")
Nominated
2017
44th Annie Awards
Best Animated Television/Broadcast Production for Children
''My Fair Hatey''
Nominated
2017
44th Annie Awards
Outstanding Achievement, Directing in an Animated TV/Broadcast Production
Dave Thomas, Eddie Trigueros, and Justin Nichols
Nominated
2017
44th Annie Awards
Outstanding Achievement, Character Design in an Animated TV/Broadcast Production
Benjamin Balisteri
Nominated
2017
69th Primetime Creative Arts Emmy Awards
Outstanding Individual Achievement in Animation
Justin Nichols
Won
References
External links
v - e -

d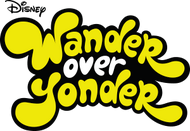 Organizations/Groups
Lord Hater's Army • Insurgent Generals • Wander and Sylvia • Bounty Hunters • Lord Dominator's Army • Galactic Villain Leaderboard • Emperor Awesome's Army
Locations
Lord Hater's Spaceship • Binglebopolopolis • Doomstone • Baaaaa-halla • Phunulon • Ballzeria • Buster • Doom Arena • Planet Ziziks • Flendar • Lord Dominatior's Spaceship • Arachnomorph Homeworld