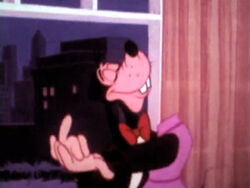 "Watch Out for Goofy!" is a song from the album Mickey Mouse Disco. As the title suggests, it is about Goofy and how he is not a very good dancer. The album's music video featured a brief snippet of the song set entirely to a clip from How to Dance.
Lyrics
A night on the town, he's all set to get down and boogie, Goofy
Dressed for the kill, he can't keep his feet still, he'll boogie, Goofy
When the disco explodes into life
When he's feeling the beat and the music's just right
He falls on his face and he's out for the night, Goofy

[Chorus]
So watch out, watch out for Goofy
Watch out for Goofy, he's a disco demolition
Watch out, watch out for Goofy
Watch out for Goofy, we love him but he just can't dance!

He clears the floor when he walks through the door, Goofy, Goofy
They head for the chairs cause he's no Fred Astaire, Goofy, Goofy
When he asks a young lady to dance
She sorta says "yes," he just won the chance
And he steps on her feet, it's the end of romance, Goofy

[Chorus]

Goofy: Watch this step, ha ha ha ha!
Whoa, pardon me! (EEEEK!) Oh, gawrsh!
(OH!) Oh, excuse me, I'm sorry! Ha ha ha ha ha!

[Chorus]

He trips and he falls and he bumps into walls, Goofy, Goofy
But he gets up again and never gives in, Goofy, Goofy
Though he thinks he's second to none
When it comes to dancin', he's not number one
But he sure tries his best and he always has fun, Goofy

[Chorus repeats and fades]
Community content is available under
CC-BY-SA
unless otherwise noted.