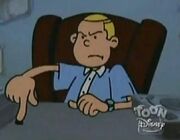 Wayne Macabre is a student at Hazelnut Middle School who DJ's the school radio station KHMS.[1]
Background
He first appears in "Radio Freak Hazelnut" when Pepper Ann accidentally tunes into his radio broadcast during class whilst trying to listen to a national radio station in order to be the tenth called and win Flaming Snot tickets. She becomes annoyed when listening to him and views him as a loudmouthed student who makes fun of everything she loves: chill-aide, Flaming Snot, Fuzzy, girl's soccer, and much more.
Trivia
His birthday is October 15th, 1984.
References