Webby Vanderquack is a major character in the DuckTales series.
Background
Webby is the granddaughter of Bentina Beakley. It is unknown what happened to Webby's own parents, but Mrs. Beakley seems to be her legal guardian. At the time of Mrs. Beakley's interview for the position of Scrooge's maid, cook, and the nephews' nanny, Webby, and Bentina were homeless. She agreed to work only for food and shelter for the both of them--a deal Scrooge couldn't refuse. Since then, both have been adopted into the Duck's extended family, and Webby earned a place in Scrooge's heart, evident by him telling her to call him "Uncle Scrooge" even though they're not related.
Personality
Webby is an extremely affectionate, adorable, and emotional little duckling and has a great love for animals. She's never without her "Quacky-Patch" doll--a small stitched doll that looks exactly like her and sometimes keeps small tokens like jellybeans and marbles inside a hole in its stitching. Webby's love for animals is her greatest asset since she seems to be able to tame even the most exotic creatures including dinosaurs and a Snow Monster. Her only conflict with animals came when she got lost in the Outback--her doll was stolen by a koala and she was chased by warthogs, though she eventually overcame her fear and became friends with those animals as well.
Webby is very expressive and always speaks her mind. An example of this is that in a possible future, depicted in the episode "Duck to the Future", Webby is the only one of Scrooge's family to help him return to his own time. She has grown up into a lady and is married to Doofus Drake. When Scrooge returns to his own time, he suggests that he will see them at their wedding, to which Webby displays great disgust.
The Disney studio promotional material said that her greatest goal is to become the fourth "Nephew". Webby often feels neglected and this has often been the impetus for her own misadventures. One even caused her to join the Beagle Babes after being kidnapped by them. Despite incidents like the prior, Webby is also often the voice of reason and is shown to be much more sensible about certain things than the boys. One example of this is in the episode "Merit-Time Adventure", where the children are trying to earn their sailing merit patches, but she is the only one who studies for it while the boys goof-off. In the end, her studying pays off and she not only gets her patch, but she saves the day as well.
Appearances
Webby makes her first appearance in the DuckTales episode "Three Ducks of the Condor" (part three of the pilot movie "Treasure of the Golden Suns"). After which she made regular appearances throughout the series. Some episodes even focused on her, such as "Attack of the Fifty-Foot Webby" and "The Good Muddahs".
In "Attack of the Fifty-Foot Webby", when Scrooge takes the children to the jungle to find a rare animal, Webby comes in contact with some water that causes her to grow to a massive size.
In "The Good Muddahs", Webby is kidnapped and held for ransom by the Beagle Boys' cousins, the Beagle Babes. During the time that they're holding her, she befriends them.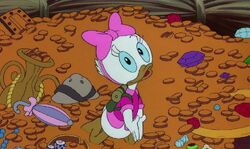 In the DuckTales movie, Scrooge takes Webby, the boys, and Launchpad on a trip to find the Treasure of Collie Baba, unaware that the evil Merlock is also looking for it. When they find it, she spots an oil lamp and asks Scrooge if she can have it, because it looks like a teapot. Not being very valuable, he says 'yes'. After having the treasure stolen by Merlock and barely escaping, they return to Duckburg empty-handed.
Once home, Webby begins to polish her "teapot". As soon as she wipes it with a cloth, a Genie pops out. He befriends Webby, Huey, Dewey, and Louie and grants several wishes for them. Her first wish, for a baby elephant, almost reveals the Genie's presence. Finally, Webby's wish that her toys would come to life reveals his presence to Scrooge. Once Gene the Genie is revealed, Scrooge wishes for the Treasure of Collie Baba and takes the lamp to the Archaeological Society Ball, where he plans to tell of his discovery. Here, Dijon (Merlock's sidekick) gets a hold of the lamp and wishes for Scrooge's fortune. After he's arrested for trespassing on "his" own property, Webby and the rest of Scrooge's friends chip in to bail him out of jail. After which she assists in retrieving the lamp and saving the day.
Webby appears in the opening theme of Raw Toonage but does not appear in any of the episodes.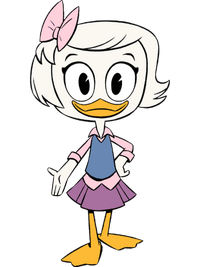 Webby reappears in the reboot series as a major character. This incarnation of Webby is considerably older than the original, and is portrayed as an enthusiastic adventure fan and Clan McDuck historian who idolizes Scrooge McDuck and regards Donald Duck as "one of the most daring adventurers of all time".[1]
However, she is also extremely socially awkward. Having lived a sheltered life in McDuck Manor, Webby is new to the prospect of friends and the world outside. The nephews become her first real friends and later become who she considers family, while she helps them fill the holes in the McDucks' mysterious history; the first season's major story arc involves her helping Dewey uncover what happened to the nephews' mother Della Duck. The reboot version of Webby is notably more extreme and competent since her protective ex-spy grandmother Beakley has taught her several unique skills, including foreign language and martial arts. Webby can be seen carrying her notable grappling hook, her adventure journal, and night-vision goggles. She is known as "The Fists" of the group.
She refers to Scrooge as "Mr. McDuck" until "From the Confidential Casefiles of Agent 22!", when Scrooge asks her to call him "Uncle Scrooge".
In "The Last Adventure!", Webby is revealed to actually be Scrooge's daughter via cloning and her original F.O.W.L. given name is April. The episode does not imply that Webby will start using the name of April.
Webby's original design appears in "The Other Bin of Scrooge McDuck!", when she is transformed into a doll of it during Lena's nightmare sequence. This doll can also been seen throughout the reboot pinned on Webby's bedroom wall.
Video games
DuckTales game series
In DuckTales and its sequels DuckTales 2 and DuckTales Remastered, Webby is a non-playable character who appears at certain levels to drop hints to the player about winning. In the remastered version, her role was expanded.
In DuckTales: The Quest for Gold, Webby is a playable character who is featured in the Wildlife Reservation level where the player must get photos of rare animals.
Webby appears as a Medal in Kingdom Hearts Union χ, sporting her design from the DuckTales reboot.
Printed material
Comics
Webby appeared regularly in the DuckTales comic book stories. She also appeared in the Darkwing Duck crossover arc Dangerous Currency, during which she showed a slight crush on Honker Muddlefoot.
During the Disney Afternoon era, Webby was a walk-around character at the Disney Parks. She was mostly seen in skits starring the DuckTales characters and at Disneyland's temporary Disney Afternoon Avenue area. They have since retired her.
Despite this, she does appear on the exterior of the Hong Kong Disneyland bus with Mickey and his friends and will host the water balloon game alongside Huey, Dewey, and Louie in the upcoming PLAY! Pavilion at Epcot. In the same park, she and her fellow DuckTales stars will host the DuckTales World Showcase Adventure. As well, she makes picture cameos in Minnie's Style Studio (in the model sheet for Cute Vanderquack), Camp Woodchuck Kitchen, and Villa Donaldo.
Gallery
Trivia
Webby was created primarily to serve as a condensed version of April, May, and June, as it was believed that one set of triplets in the main cast was enough.
Although Webby was originally officially Bentina Beakley's granddaughter and not related to the Duck/McDuck family (this later changed as revealed in the 2017 reboot finale), some DuckTales books mistakenly say she's Mrs. Beakley's niece and others say she's Huey, Dewey, and Louie's cousin. According to a French version of the Duck family tree (published prior to Don Rosa's version's creation), she was Daisy Duck's niece and presumably a cousin of April, May, and June.
Webby's surname is only mentioned twice in the 1987 series: once in "Pearl of Wisdom", when her name is announced in the marble shooting contest; and once in a television commercial, where she introduces herself to the audience. In the 2017 reboot, her surname is mentioned more frequently and as early as the pilot episode, "Woo-oo!" She also briefly mentions her surname in a Disney Channel commercial in which she watches Andi Mack and declares Mack her "new best rhyme friend" as their surnames rhyme.
As Webby has a different surname from her grandmother, it can be assumed that Mrs. Beakley is her maternal grandmother.

In the reboot, Webby is a clone of Scrooge McDuck that Mrs. Beakley found in a F.O.W.L. lab, and Mrs. Beakley's son-in-law and daughter, Mr. and Mrs. Vanderquack, died before Webby was born. It is implied she only has the Vanderquack name just to keep her true origins a secret.

Webby has rarely appeared outside the DuckTales franchise.
In the Dutch version of DuckTales, Webby is named Lizzy, which was also the case for April, one of Daisy's nieces. In the reboot series, the Dutch version changed her name to Webby, presumably to avoid confusion between the two characters. Ironically, Webby would be later revealed to be "April" in the series finale.
While not directly stated in the 2017 reboot, promos from DisneyXD confirm that her full name is, in fact, April McDuck.[2]
References
External links
v - e - d

Disney
Mickey Mouse & Friends: Mickey • Minnie • Donald • Daisy • Goofy • Pluto • Fifi • Pete • Clarabelle Cow • Horace Horsecollar • Willie the Giant • Chip and Dale • Mortimer Mouse • Chief O'Hara • Detective Casey • Butch the Bulldog • Golden Harp • Father Time • Peter Pig


The Lion King: Simba • Nala • Shenzi, Banzai, and Ed • Ostrich • Gazelle • Rhino • Hippo • Zebra • Blue Beetle • Grub • Zazu • Rafiki • Timon • Pumbaa • Mufasa • Scar
Tangled: Rapunzel • Flynn Rider • Stabbington Brothers • Pub Thugs • Attila • Vlad • Big Nose • Hook Hand • Ulf • Shorty • Pascal • Maximus • Mother Gothel • The King • The Queen • Captain of the Guards • Warthog • The Lantern
Wreck-It Ralph: Ralph • Vanellope • Felix • Sgt. Calhoun • King Candy • Taffyta Muttonfudge • Candlehead • Surge Protector • Gene • Nicelanders • Rancis Fluggerbutter • Other Sugar Rush Racers • Sour Bill • Blue Racer • General Hologram
Big Hero 6: Hiro Hamada • Baymax • Robert Callaghan • Go Go Tomago • Honey Lemon • Wasabi • Fred • Fred's Dad • Tadashi Hamada • Cass • Yama • Alistair Krei • Heathcliff • Abbigail Callaghan • Attila • Sergeant Gerson • Cass
Zootopia: Judy Hopps • Nick Wilde • Flash • Clawhauser • Gazelle • Yax • Bogo • Mayor Lionheart • Bellwether • Doug • Finnick • Mr. Big • Mr. Otterton • Manchas • Gideon • Jerry Jumbeaux Jr. • Nanga • Priscilla • Mr. Hopps • Mrs. Hopps • Business Lemming • Duke Weaselton • Fru Fru • Kozlov • Officer McHorn • Wrangled • Wreck-It Rhino • Pig Hero 6
The Jungle Book: Mowgli • Kaa • Baloo • Akela • Raksha • Gray • Shere Khan • Colonel Hathi • King Louie • Bandar-Log Monkey • Flying Squirrel • Crocodile • Peacock • Vulture • Elephant • Bee Hive
Alice Through the Looking Glass: Alice Kingsleigh • Dormouse • Tweedledee and Tweedledum • Cheshire Cat • Bandersnatch • Bayard • White Queen • March Hare • White Rabbit • Mad Hatter • Absolem • Time • Wilkins • Humpty Dumpty • Red Queen • Borogrove • Frog Delivery Man • Gentleman Fish • Vegetable Soldier • Vegetable Servant • Vegetable Executioner • Armored Chess Piece
Pirates of the Caribbean: Jack Sparrow • Will Turner • Elizabeth Swann • Joshamee Gibbs • Tia Dalma • James Norrington • Marty • Cotton • Bootstrap Bill Turner • Pintel • Ragetti • Angelica • Blackbeard • Prison Dog • Maccus • Davy Jones • Helmsman • Philip Swift • Syrena • Captain Salazar • Ghost Lesaro • Shansa • Henry Turner • Carina Smyth • The Redhead • Murtogg • Mullroy • Treasure Chest • Stray Cat • Tiny • Pirate With Pigs • Ghost Shark • Ghost Seagull • Auctioneer
Aladdin: Aladdin • Jasmine • The Sultan • Prince Achmed • Gazeem • Razoul • Rajah • Iago • Abu • Genie • Jafar • Magic Carpet • Pink Flamingo • Beggar Jafar • Golden Scarab Beetle • Magic Lamp • Snake Charmer • Golden Camel
The Nightmare Before Christmas: Jack Skellington • Sally • Lock, Shock, and Barrel • Oogie Boogie • Santa Claus
Mulan: Mulan • Yao, Ling, and Chien Po • Fa Li • Fa Zhou • Hayabusa • Khan • Cri-Kee • Little Brother • Mushu • Shan Yu • Captain Li Shang • The Emperor of China • The Matchmaker • General Li • Grandmother Fa • First Ancestor Fa • Chi-Fu • Great Stone Dragon
Moana: Moana • Sina • Frigatebird • Chief Tui • Gramma Tala • Pua • Frigatebird • Kakamora Chief • Maui • HeiHei • Ghost Matai • Eel • Tamatoa • Frog Monster • Sloth Monster • Eight Eyed Bat • Chicken Feed • Maui's Hook • The Ocean
Beauty and the Beast: Belle • Maurice • Chip Potts • Mrs. Potts • Gaston • LeFou • FrouFrou • Chapeau • Plumette • Beast • Cogsworth • Lumiere • The Enchantress
Lilo & Stitch: Lilo Pelekai • Nani Pelekai • David Kawena • Mrs. Hasagawa • Mertle Edmonds • Stitch
DuckTales: Scrooge McDuck • Donald Duck (Classic) • Huey, Dewey, and Louie • Webbigail Vanderquack • Mrs. Beakley • Beagle Boys (Big Time, Burger, and Bouncer) • Gyro • Darkwing Duck • Falcon Graves • Pixiu Chinese Dragon • Peghook's Ghost • Launchpad McQuack • Hack and Slash Smashnikov • Gizmoduck • Shadow Magica • Ma Beagle • Flintheart Glomgold • Pharaoh Toth-Ra • Headless Man-Horse
v - e - d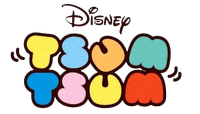 Disney
Mickey & Friends: Mickey • Minnie • Donald • Daisy • Goofy • Pluto • Chip and Dale • Oswald • Ortensia • Duffy • ShellieMay • Gelatoni • StellaLou • CookieAnn • 'Olu Mel • Huey, Dewey, and Louie • José Carioca • Panchito Pistoles • Clarabelle Cow • Horace Horsecollar • Max Goof • Clarice • Pete • Scrooge McDuck • Ludwig Von Drake • Dr. Frankenollie • Julius

Pooh and Pals: Pooh • Tigger • Piglet • Eeyore • Rabbit • Owl • Roo • Kanga • Gopher • Christopher Robin • Lumpy
Lilo & Stitch: Stitch • Lilo • Scrump • Pleakley • Jumba • Angel • Leroy • Dr. Hämsterviel • Ugly Duckling • Sparky • 627 • Gigi • Babyfier • Yang • Slushy • Shortstuff • 625 • Amnesio • Dupe • Sample • Clip • Tank • Yin • Hunkahunka • Plasmoid
Silly Symphonies: Donald Duck • Big Bad Wolf • Practical Pig • Fiddler Pig • Fifer Pig • Ugly Duckling
Snow White and the Seven Dwarfs: Snow White • Evil Queen • Doc • Grumpy • Happy • Bashful • Sneezy • Sleepy • Dopey
Pinocchio: Pinocchio • Jiminy Cricket • Figaro • Cleo • Geppetto • Blue Fairy • Honest John and Gideon • Lampwick • Monstro
Fantasia: Mickey • Yen Sid • Chernabog • Hyacinth Hippo • Ben Ali Gator
Dumbo: Dumbo
Bambi: Bambi • Thumper • Miss Bunny • Friend Owl • The Great Prince of the Forest
The Three Caballeros: Gauchito • Burrito
The Adventures of Ichabod and Mr. Toad: Mr. Toad
Cinderella: Cinderella • Jaq and Gus • Prince Charming • Fairy Godmother • Lady Tremaine • Lucifer • Suzy • Perla • Bruno
Alice in Wonderland: Alice • Mad Hatter • March Hare • Dormouse • White Rabbit • Cheshire Cat • Tweedle Dum and Tweedle Dee • Queen of Hearts • King of Hearts • Caterpillar • Dinah • Oysters
Peter Pan: Peter Pan • Tinker Bell • Wendy Darling • John Darling • Michael Darling • Captain Hook • Mr Smee • Nana • Tick Tock • Tiger Lily
Lady and the Tramp: Lady • Tramp • Si and Am • Jock • Trusty • Peg
Sleeping Beauty: Aurora • Phillip • Maleficent • Flora • Fauna • Merryweather • Diablo • Samson • King Stefan • Goon • Owl • Rabbit
Mary Poppins: Mary Poppins • Bert • Penguin Waiter • Carousel Horse
One Hundred and One Dalmatians: Cruella De Vil • Lucky • Patch • Rolly
The Jungle Book: Mowgli • Baloo • Bagheera • Shere Khan • Kaa • King Louie • Hathi, Jr. • Raksha
Pete's Dragon: Elliott
The Fox and the Hound: Tod • Copper
The Aristocats: Marie • Berlioz • Toulouse • Duchess • Thomas O'Malley
The Rescuers: Bernard • Bianca
Oliver & Company: Oliver • Dodger • Tito • Rita • Francis • Einstein
The Little Mermaid: Ariel • Flounder • Sebastian • Eric • Ursula • Triton • Max • Scuttle
Beauty and the Beast: Belle • Beast • Lumiere • Cogsworth • Mrs. Potts • Chip • Maurice • Philippe • Gaston • LeFou
Aladdin: Aladdin • Abu • Genie • Jasmine • Jafar • Sultan • Iago • Rajah
The Nightmare Before Christmas: Jack Skellington • Sally • Zero • Lock, Shock, and Barrel • Oogie Boogie • Dr. Finkelstein • Mayor of Halloween Town • Santa Claus
The Lion King: Simba • Nala • Timon • Pumbaa • Zazu • Rafiki • Scar • Ed
Pocahontas: Pocahontas • John Smith • Meeko • Flit • Percy
Hercules: Hercules • Megara • Hades
Mulan: Mulan • Li Shang • Mushu • Fa Zhou • Khan
The Emperor's New Groove: Kuzco • Yzma • Kronk
Mickey, Donald, Goofy: The Three Musketeers: Mickey Mouse • Minnie Mouse • Donald Duck • Goofy
Chicken Little: Chicken Little
The Princess and the Frog: Dr. Facilier
Tangled: Rapunzel • Flynn Rider • Pascal • Maximus • Mother Gothel • Queen Arianna • King Frederic • Cassandra • Fidella • Pub Thug
Wreck-It Ralph: Wreck-It Ralph • Fix-It Felix Jr.
Frozen: Anna • Elsa • Olaf • Kristoff • Sven • Hans • Snowgies • Bruni
Big Hero 6: Hiro • Baymax • Fred • Wasabi • Honey Lemon • Go Go Tomago • Tadashi Hamada • Yokai • Mochi
Zootopia: Judy Hopps • Nick Wilde • Mayor Lionheart • Flash • Yax • Gazelle • Chief Bogo • Clawhauser • Finnick • Mr. Big • Bellwether • Jerry Jumbeaux Jr.
Moana: Moana • Maui • Pua • Heihei • Tamatoa • Kakamora
Chip 'n Dale Rescue Rangers: Chip • Dale • Gadget • Monterey Jack
Phineas and Ferb: Perry
The Lion Guard: Kion • Ono • Bunga • Beshte • Fuli
DuckTales (2017): Scrooge McDuck • Huey, Dewey, and Louie • Webby Vanderquack
Kingdom Hearts: Sora • Riku • Kairi • Aqua • Xemnas • Ansem, Seeker of Darkness • Ventus • Terra • Chirithy • Lea • Young Xehanort
UniBEARsity: Mocha • Pudding • Whip • Puffy • Mont • Blanc • Souffle • Blue Rose • Charmant • Portiron • Rogue Rose • Fauve • Lucien • Horloge • La Mer • Ma Puce
Sofia the First: Sofia • Minimus • Skye
Elena of Avalor: Elena
Enchanted: Giselle
Disney Fairies: Periwinkle • Rosetta • Silvermist
The Sword in the Stone: Wart • Merlin
Oliver & Company: Oliver
Raya and the Last Dragon: Raya • Sisu
Community content is available under
CC-BY-SA
unless otherwise noted.