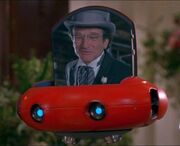 Weebette is a minor character in Disney's Flubber. She only appeared at the end, as the daughter of Weebo, who unlike the latter, is very sarcastic around the humans, to the point of insulting Flubber.
Appearance
Weebette was created from blueprints designed by Weebo. As such, she can be considered a streamlined version of her mother. She is mainly red with a similar LCD screen.
Personality
Unlike her mother, Weebette behaves like a teenage girl with a bad attitude.
She's very sarcastic around humans, though, he once referred Sara Jean Reynolds as mother, since she was made from Sara's husband, Philip Brainard, implying she refers him as father.
Also, despite Flubber being friends with her father, Weebo, Weebette insults him, seeing him as a brother.
Community content is available under
CC-BY-SA
unless otherwise noted.