Welcome to Pooh Corner is a live-action/puppet television series that aired on The Disney Channel, featuring the characters from the Winnie the Pooh universe portrayed by actors in human-sized puppet suits, except Roo, who was usually a traditional puppet.
Each show began with an introduction sequence with narrator Laurie Main speaking to the audience. He would relate what he was talking about to an event that occurred in the Hundred Acre Wood, the home of the Pooh characters, and then he would proceed to read from a book entitled Welcome to Pooh Corner. He would then narrate the episode acted out by the characters. The action was filmed before a blue screen, rather than using traditional sets.
Since the show was designed for The Disney Channel before it began airing commercials, there were no breaks for commercials. As a result, the show lasted a full thirty minutes. The main story ran about twenty minutes followed by two shorter segments. The first segment was a music video featuring one of ten songs, used over and over throughout the show's run. These songs were written by the Academy Award winning Sherman Brothers who had provided the majority of the Winnie the Pooh music over the years. The Sherman Brothers also wrote the show's theme song, using the music from the original Winnie the Pooh theme song from The Many Adventures of Winnie the Pooh.
The last segment of the show was a presentational arts and crafts demonstration. One of the cast members would speak to the narrator, looking directly into the camera, while they showed the viewers at home how to make something.
In addition to normal episodes, several holiday episodes and educational specials were also produced, such as Too Smart for Strangers (1985), where Pooh and his friends explain to people what to do when they meet someone they don't know. They also discuss "Not-Okay touching," at a time when cases of child molestation were becoming more frequent, and was used as a guide for victims and their families.
Dumbo's Circus, another Disney Channel live-action/puppet television series, was produced in a similar way, with actors in costumes in front of a blue screen. The show's title derives from the second Winnie the Pooh storybook, The House at Pooh Corner.
Welcome to Pooh Corner began airing in 1983, and was removed from the channel when it began airing commercial breaks in 1997. As a result, the show's VHS releases have become hard to find. There are currently no plans to release Welcome to Pooh Corner on DVD from Walt Disney Home Entertainment or Disney+ (Not Yet).
Cast
Songs
Episode list
"Pooh Shows Tigger a Bright Side"
"Eeyore Solves a Problem"
"Owl Has a Party for his Auntiversary"
"Kanga and Roo Learn Where Home Is"
"Pooh Takes Pot Luck"
"Big Little Piglet"
"There's No Place Like Owl's Place"
"Piglet Sings Out"
"Pooh Gets a Turn"
"A House is Blown Down"
"Singing Helps the Work Along"
"Be of Good Cheer"
"Pooh and his Friends Play Follow the Leader"
"A House of a Different Color"
"Feelings"
"Wishing"
"Pooh Borrows Trouble"
"Clouds"
"The Fastest Rabbit in the Wood"
"When I Was Younger"
"A Swing for Eeyore"
"Do it Now"
"Hi Neighbor"
"Rabbit's Cousin"
"The Great Kite Race"
"Piglet Learns to Swing"
"Handyman Tigger"
"It Must Be Spring"
"It Must Be Fall"
"Rabbit's Treasure Hunt"
"Strawberry Time"
"Sleepytime Tigger"
"Eeyore's Tea Party"
"Rules of the Game"
"Eeyore's Island"
"Let's Pretend"
"Pooh Corner Carnival"
"Many Things: Lost and Found"
"Roo Gets Lost"
"Rabbit Wins One For Tigger"
"Eeyore Goes Exploring"
"Dress Up Day"
"Bright Idea"
"Piglet's Secret Place is Safe"
"Pooh Forgets to Remember"
"Look Around, Look Around"
"To Be a Friend"
"Butterflies Tigger"
"Piglet Sees Spots"
"Pooh Scouts Campout"
"The Man in the Moon is a Tigger"
"Heat Wave"
"The Long, Long Walk"
"Mystery of the Missing Tail"
"Now You See it"
"Pooh Corner School"
"Poor Eeyore"
"Piglet Finds Out Who Friends Are"
"A Mysterious Noise Keeps Piglet Awake"
"When I was Younger"
"Very Beautiful Day"
"There's a Party Going Round"
"Home is Better"
"The Fastest Does Not Win the Race"
"Pooh and his Friends Switch Places"
"Pooh Cleans Up"
​Specials
"Pooh Corner Thanksgiving"
"Christmas at Pooh Corner"
"Pooh's Funny Valentine's Day"
"Christmas is For Sharing"
"One and Only You"
"Responsible Persons"
Home media release
Main article: Welcome to Pooh Corner videography
Trivia
Welcome to Pooh Corner differs on many things from its other incarnations:

Pooh is a little smarter than usual (despite being a bear of very little brain) and his eyes are different.
Piglet always has on a scarf, or a muffler as the narrator calls it.
Tigger's nose is black (like in the parks) and he has a talent for art.
Rabbit is a talented magician aside from being a gardener.
Eeyore has a talent for dancing. His house is made of wooden planks, complete with a door and weather vane.
Owl always has on glasses. He wears a pilot's cap and scarf when flying. When Owl flies and lands the sound of a plane's engine can be heard. When Owl jumps off the branch of his tree to take off a slide whistle is heard. He also loves to cook.
Roo's character originally was a toddler and would most often be sitting on something like Eeyore or Tigger's back, Kanga's pouch, or his high chair. In later episodes, his character was portrayed as being a preschooler; he was then able to walk around in more scenes and was never in his mother's pouch. He also always wore a red shirt, but later changed to a white collared shirt. (However, at least one storybook published around the time did have him wearing one).

It is also notable that very few of the actors who played the characters in the original Disney Pooh short films reprised their roles here, nor are the parts played by any of the characters' current voice actors such as Jim Cummings.
In this show, Hal Smith voices both Pooh and Owl. However, in The New Adventures of Winnie the Pooh, Smith would reprise his role as Owl, while Pooh would be more famously voiced by Jim Cummings.
Christopher Robin and Gopher never make any appearance in all the episodes, though Christopher Robin is mentioned in the 1986 educational special Pooh's Great School Bus Adventure.
Pooh's theme song, "The Right Side", was originally used in Mary Poppins (although the song was cut out in the movie's release).
The animatronic costumes used for the characters were created by Alchemy II, Inc. headed by Ken Forsse, who later created the toy sensation Teddy Ruxpin.
For the French version of the show, the narrator sequences were changed to suit the French audience. The host was played by French actor Jean Rochefort from 1985 to 1987, and then Vincent Perrot in 1988.

The French intro sequences show Rabbit is as a drawing, rather than a stuffed animal, like the rest of the characters. The fourth and final opening does this to Piglet's appearance as well, though he is also still shown as a doll during Pooh's shot.

This is the only Winnie the Pooh TV series to use the classic Winnie the Pooh theme song as the opening theme song; three other shows (such as The New Adventures of Winnie the Pooh, The Book of Pooh, and My Friends Tigger & Pooh) have a different opening theme song.
Gallery
Behind the scenes
Screenshots
v - e - d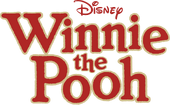 Songs
Movie Songs
Winnie the Pooh and the Honey Tree: "Winnie the Pooh" • "Up, Down, Touch the Ground" • "Rumbly in My Tumbly" • "Little Black Rain Cloud" • "Mind Over Matter"
Winnie the Pooh and the Blustery Day: "A Rather Blustery Day" • "The Wonderful Thing About Tiggers" • "Heffalumps and Woozles" • "Rain, Rain, Rain Came Down, Down, Down" • "Hip-Hip-Hooray!"
Boo to You Too! Winnie the Pooh: "I Am Not Afraid" • "I Wanna Scare Myself"
Pooh's Grand Adventure: The Search for Christopher Robin: "Forever & Ever" • "Adventure is a Wonderful Thing" • "If It Says So" • "Wherever You Are" • "Everything is Right"
A Winnie the Pooh Thanksgiving: "Hooray, Hooray!" • "Berrily We Roll Along" • "Our Thanksgiving Day" •
Winnie the Pooh: Seasons of Giving: "Seasons of Giving"
The Many Songs of Winnie the Pooh: "It Really Was a Woozle, Yes it Was"
Sing a Song with Pooh Bear: "Kanga Roo Hop" • "Harvest What You Grow" • "My Song"
Winnie the Pooh: A Valentine for You: "Girls are Like Boys" • "When the Love Bug Bites" • "Places in the Heart"
Winnie the Pooh: A Very Merry Pooh Year: "Jingle Bells" • "Snow Snows" • "Happy Pooh Year" • "Hunny, No Not For Me" • "Auld Lang Syne"
The Tigger Movie: "Someone Like Me" • "Whoop-de-Dooper Bounce" • "Lull-a-Bee" • "Round My Family Tree" • "How to Be a Tigger" • "Your Heart Will Lead You Home"
Piglet's Big Movie: "If I Wasn't So Small" • "A Mother's Intuition" • "With a Few Good Friends" • "Sing-Ho (For the Life of a Bear)" • "The More It Snows (Tiddely-Pom)" • "The More I Look Inside" • "Comforting to Know"
Springtime With Roo: "We're Huntin' Eggs Today" • "Sniffley Sniff" • "Easter Day With You" • "The Way It Must Be Done"
Pooh's Heffalump Movie: "Little Mr. Roo" • "The Horribly Hazardous Heffalumps" • "The Name Game" • "Shoulder to Shoulder" • "In the Name of the Hundred Acre Wood/What Do You Do?"
Pooh's Heffalump Halloween Movie: "Trick 'R Treating With Our Friends" • "Brave Together"
Winnie the Pooh: "The Tummy Song" • "A Very Important Thing to Do" • "The Winner Song" • "The Backson Song" • "It's Gonna Be Great" • "Everything is Honey" • "Pooh's Finale"
Christopher Robin: "Goodbye, Farewell" • "Busy Doing Nothing" • "Christopher Robin"
Television Songs
Welcome to Pooh Corner: "Welcome to Pooh Corner Theme Song" • "Try a Little Something New" • "The Right Side" • "Yes, I Can" • "You're the Only You" • "I Hum to Myself" • "Please and Thank You" • "Responsible Persons" • "You're the One and Only One" • "Welcome to Pooh Corner Ending Theme"
The New Adventures of Winnie the Pooh: "Pooh Bear" • "'Cause It's Make Believe" • "The Floating Song" • "Nothing's Too Good for a Friend" • "Under the Bed" • "I Don't Have A Name" • "King of the Beasties" • "The End" • "Pirates is What We'll Be" • "Tigger the Private Ear is Here"
The Book of Pooh: "Everyone Knows He's Winnie the Pooh" • "Goodbye for Now" • "Your Best Wishes" • "On the Double" • "Who is Me" • "Think, Think, Think" • "What Piglets Are" • "I Watch for Signs" • "We're Making a Cake" • "If I Could Be Big" • "Isn't That Funny?" • "Everyone Wants a Valentine" • "That's What We Do" • "Keep it Simple" • "Have You Got a Book For Me?" • "Give It a Try" • "On Your Way Back Home" • "The Birdbird Song" • "Nightmare Wranglers" • "Carry On" • "What's Your Name, River" • "Where Do Words Go?" • "Under a Spelling Bee's Spell" • "Adventure" • "Mental Altitude" • "I Want to Know Everything Now" • "Happy Tailiversary" • "Get Growin'" • "Tigger's Lullaby" • "Perfect Party" • "If We Were Talkin'" • "Someone New to Meet" • "My Hero" • "Broken Friendships" • "Do the Roo" • "Call Me Buck-a-Roo" • "At Chez Piglet" • "Nothing Ever Happens" • "Too Much Honey" • "Lost in a Book"
My Friends Tigger and Pooh: "A Few Simple Rules" • "Bouncin'" • "The Grass is Greenier" • "The Password Song" • "Underneath the Same Sky" • "One Big Happy Family" • "Think, Think, Think" • "The Question Song" • "Floating in a Cloud" • "Different Can Be Good" • "The Little Things You Do" • "There's a Party" • "No More Fun In the Snow" • "Butterflies" • "What Makes a Pony a Pony" • "When We Work Together" • "Christmas Comes Tomorrow" • "Time to Go (On a Trek Through the Snow)" • "Snowman Song"
Miscellaneous: "Luv-a-bye" • "Playtime Song" • "Learning Song" • "Friendship Song" • "Snug as a Bear Can Be" • "The Scrapbook Song"