"What'd I Miss?" is an episode of Phineas and Ferb.
Synopsis
Phineas and the gang introduce Ferb and Perry to their newest project - training domesticated squirrels to live in the wild. Meanwhile, Heinz Doofenshmirtz aims to do a better job of seeing through his evil plans now that Agent P is back.
Plot
The gang is outside, sitting under the tree, talking about what they did the day before. Ferb is missing. He then walks in the gate with Perry, revealing that he'd finished with debate camp earlier than expected, having changed another camper's worldview in a debate. Phineas offers him muffins made from the previous day's "training nuts," prompting Ferb to ask what he'd missed. This leads Phineas to recount the day for him.
Phineas begins the flashback: He'd originally planned to help Isabella earn her surfing patch, and had made miniature prototype surfboards in order that she could choose a design. Isabella comments that squirrels could ride on them, and that they only need a box of squirrels. Baljeet and Buford promptly show up with a box of squirrels, but the squirrels have been domesticated and "have no squirrel sense." Phineas remarks that he knows what they're going to do today, with Baljeet playing the role of Ferb. Phineas then asks where Perry is, and the flashback ends. Phineas realizes that Perry is again missing.
Perry lands in his lair, and Major Monogram reports that Danville is suffering from a shortage of peaches. He sends the platypus after Doofenshmirtz, but Perry exits in mid-sentence.
Phineas is continuing the story when Candace shows up, demanding to know what he and his friends are up to. When she hears that he's telling the story of what they did yesterday, she decides to go get Linda so that she can hear the story and finally bust the boys.
Perry lands on the beach and is promptly trapped under a bucketful of sand. Doofenshmirtz asks Perry how debate camp went, and it is seen that Perry changed the same camper's worldview in another debate, although Doofenshmirtz cannot see the flashback. He then tells Perry that he is at the beach at the clam bake to do something with his new invention, the Peach-Cobbler-inator, but he has to tell the previous day's story first.
Flashback to the previous day: Doofenshmirtz, at his evil headquarters, is expecting Perry when Agent R shows up instead. He attempts to trap Agent R, but since the trap is platypus-sized, it does not hold the rhinoceros at all. Doofenshmirtz then reveals his evil plan: his brother Roger is officiating a beauty pageant, and he plans to use his A-Leaky-Faucet-inator to drop one huge drop of water on him. (His original plan had involved domesticated squirrels, doilies, and pantyhose containers, but switched after a leaky faucet distracted him.) Agent R, however, starts eating clumsily off a table, much to Doofenshmirtz' annoyance.
In the Flynn-Fletcher backyard, Candace has brought Linda out to listen to Phineas' story. Buford continues by stating that they finally reached "the musical part of the story," where they taught squirrels how to live in the wild, through eating nuts, looking cute, dodging cars, climbing trees, and dancing, which Buford added to the list much to Linda's confusion.
Back at the beach, Doofenshmirtz continues his flashback. Having loaded the -inator onto his rocket skiff along with Agent R, he arrives at the beauty contest and prepares to drop water onto Roger. Despite a momentary distraction when a crow lands on his head, Doofenshmirtz activates the A-Leaky-Faucet-inator, but is annoyed when Agent R does not attempt to stop him. In an attempt to initiate this, he unlocks the shackle on Agent R's ankle, but the rhino just walks away. However, this unbalances the rocket skiff, causing it to spin rapidly and launch the giant water drop.
Meanwhile, the kids are still training the squirrels when the water droplet lands in the backyard. The squirrels ride the wave out of the yard using the prototype surfboards, much to Candace's frustration when she attempts to bust the boys to Linda moments later.
Roger is concluding the talent portion of the beauty contest when Doofenshmirtz and Agent R land on stage, having fallen from the skiff. Doofenshmirtz starts riding the rhinoceros like a rodeo bull, impressing the judges.
Concluding his story, Doofenshmirtz tells Perry that he was crowned King Pretty Pretty Princess -- the first time he ever won something. As such, he has become obsessed with entering contests and plans to use his Peach-Cobbler-inator to get the clambake judges to crave his peach cobbler and declare it the winner. However, while he is boasting about how Perry-proof this -inator is, Perry throws a handful of sand on it, shorting it out. Doofenshmirtz throws the Peach-Cobbler-inator behind him, and it fires once as it hits the ground. Perry flies away, and Doofenshmirtz curses him before realizing he's burned his cobbler. He asks how the day can get any worse, and the rocket skiff promptly lands on him before being swept away by a wave.
Phineas has also concluded his story, but to Candace's chagrin, Linda is proud of the boys for teaching squirrels how to survive and does not bust them. But before she can complain, Candace is hit by the Peach-Cobbler-inator's ray, and now only wants peach cobbler, which Linda happens to have made.
Cast
Songs
Goofs
Buford's other eye is pointed in the wrong direction. It should be pointed at Phineas and Ferb's mom.
When Buford steps on the wind-up car during "Be a Squirrel", the hood is gray but when he shakes his head responding to the squirrel's failure, then the hood was back to tan which was the toy car's color.
When Phineas draws the checks, they are black at first, then when he lifts his pencil they are gray.
Doofenshmirtz says his contest victory was the first time he ever won something, but he won the Inator Creator contest in "Robot Rodeo." However, this may be the first time he won something legitimately instead of by default. It may also mean that this episode takes place before "Robot Rodeo."
Gallery
v - e - d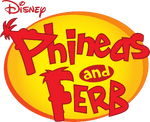 Episodes
Season One: "Rollercoaster" • "Candace Loses Her Head" • "The Fast and the Phineas" • "Lawn Gnome Beach Party of Terror" • "The Magnificent Few" • "S'Winter" • "Are You My Mummy?" • "Flop Starz" • "Raging Bully" • "Lights, Candace, Action!" • "Get That Bigfoot Outta My Face!" • "Tree to Get Ready" • "It's About Time!" • "Jerk De Soleil" • "Toy to the World" • "One Good Scare Ought to Do It!" • "A Hard Day's Knight" • "I, Brobot" • "Mom's Birthday" • "Journey to the Center of Candace" • "Run Away Runway" • "I Scream, You Scream" • "It's a Mud, Mud, Mud, Mud World" • "The Ballad of Badbeard" • "Dude, We're Getting the Band Back Together" • "Ready for the Bettys" • "The Flying Fishmonger" • "Phineas and Ferb Get Busted!" • "Greece Lightning" • "Leave the Busting to Us!" • "Crack That Whip" • "The Best Lazy Day Ever" • "Boyfriend From 27,000 B.C." • "Voyage to the Bottom of Buford" • "Put That Putter Away" • "Does This Duckbill Make Me Look Fat?" • "Traffic Cam Caper" • "Bowl-R-Ama Drama" • "The Monster of Phineas-n-Ferbenstein" • "Oil on Candace" • "Unfair Science Fair" • "Unfair Science Fair Redux (Another Story)" • "Out to Launch" • "Got Game?" • "Comet Kermillian" • "Out of Toon" • "Hail Doofania!"


Season Two: "The Lake Nose Monster" • "Interview With a Platypus" • "Tip of the Day" • "Attack of the 50 Foot Sister" • "Backyard Aquarium" • "Day of the Living Gelatin" • "Elementary My Dear Stacy" • "Don't Even Blink" • "Chez Platypus" • "Perry Lays an Egg" • "Gaming the System" • "The Chronicles of Meap" • "Thaddeus and Thor" • "De Plane! De Plane!" • "Let's Take a Quiz" • "At the Car Wash" • "Oh, There You Are, Perry" • "Swiss Family Phineas" • "Hide and Seek" • "That Sinking Feeling" • "The Baljeatles" • "Vanessassary Roughness" • "No More Bunny Business" • "Spa Day" • "Phineas and Ferb's Quantum Boogaloo" • "Phineas and Ferb Musical Cliptastic Countdown" • "Bubble Boys" • "Isabella and the Temple of Sap" • "Cheer Up Candace" • "Fireside Girl Jamboree" • "The Bully Code" • "Finding Mary McGuffin" • "Picture This" • "Nerdy Dancin'" • "What Do It Do?" • "Atlantis" • "Phineas and Ferb Christmas Vacation!" • "Just Passing Through" • "Candace's Big Day" • "I Was a Middle Aged Robot" • "Suddenly Suzy" • "Undercover Carl" • "Hip Hip Parade" • "Invasion of the Ferb Snatchers" • "Ain't No Kiddie Ride" • "Not Phineas and Ferb" • "Phineas and Ferb-Busters!" • "The Lizard Whisperer" • "Robot Rodeo" • "The Beak" • "She's the Mayor" • "The Lemonade Stand" • "Phineas and Ferb Hawaiian Vacation" • "Summer Belongs to You!" • "Nerds of a Feather" • "Wizard of Odd" • "We Call it Maze" • "Ladies and Gentlemen, Meet Max Modem!" • "The Secret of Success" • "The Doof Side of the Moon" • "Split Personality" • "Brain Drain" • "Rollercoaster: The Musical!" • "Make Play" • "Candace Gets Busted"
Season Three: "The Great Indoors" • "Canderemy" • "Run, Candace, Run" • "Last Train to Bustville" • "Phineas' Birthday Clip-O-Rama!" • "The Belly of the Beast" • "Moon Farm" • "Ask a Foolish Question" • "Misperceived Monotreme" • "Candace Disconnected" • "Magic Carpet Ride" • "Bad Hair Day" • "Meatloaf Surprise" • "Phineas and Ferb Interrupted" • "A Real Boy" • "Mommy Can You Hear Me?" • "Road Trip" • "Tour de Ferb" • "Skiddley Whiffers" • "My Fair Goalie" • "Bullseye!" • "That's the Spirit" • "The Curse of Candace" • "Escape from Phineas Tower" • "Lotsa Latkes" • "Ferb Latin" • "A Phineas and Ferb Family Christmas" • "Tri-Stone Area" • "Doof Dynasty" • "Excaliferb" • "Phineas and Ferb and the Temple of Juatchadoon" • "Monster from the Id" • "Gi-Ants" • "The Remains of the Platypus" • "Mom's in the House" • "Perry the Actorpus" • "Let's Bounce" • "Bully Bromance Break Up" • "Quietest Day Ever" • "Doonkleberry Imperative" • "Meapless in Seattle" • "Delivery of Destiny" • "Buford Confidential" • "The Mom Attractor" • "Cranius Maximus" • "Agent Doof" • "Minor Monogram" • "What a Croc!" • "Sleepwalk Surprise" • "Sci-Fi Pie Fly" • "Sipping with the Enemy" • "Tri-State Treasure: Boot of Secrets" • "Doofapus" • "Norm Unleashed" • "Where's Perry?" • "Ferb TV" • "When Worlds Collide" • "What'd I Miss?" • "Road to Danville" • "This is Your Backstory" • "Blackout!"
Season Four: "For Your Ice Only " • "Happy New Year!" • "Fly On the Wall" • "Bully Bust" • "My Sweet Ride" • "Der Kinderlumper" • "Sidetracked" • "Primal Perry" • "Mind Share" • "Backyard Hodge Podge" • "Bee Day" • "Bee Story" • "Great Balls of Water" • "Where's Pinky?" • "Phineas and Ferb Musical Cliptastic Countdown Hosted by Kelly Osbourne" • "Knot My Problem" • "Just Desserts" • "La Candace-Cabra" • "Happy Birthday, Isabella" • "Love at First Byte" • "One Good Turn" • "Mission Marvel" • "Thanks But No Thanks" • "Troy Story" • "Druselsteinoween" • "Terrifying Tri-State Trilogy of Terror" • "Face Your Fear" • "Cheers for Fears" • "Steampunx" • "Just Our Luck" • "Return Policy" • "Live and Let Drive" • "Phineas and Ferb Save Summer" • "Father's Day" • "Imperfect Storm" • "The Return of the Rogue Rabbit" • "It's No Picnic" • "The Klimpaloon Ultimatum" • "Operation Crumb Cake" • "Mandace" • "Phineas and Ferb: Star Wars" • "Lost in Danville" • "The Inator Method" • "Night of the Living Pharmacists" • "Tales from the Resistance: Back to the 2nd Dimension" • "Doof 101" • "Act Your Age" • "Last Day of Summer" • "O.W.C.A. Files"