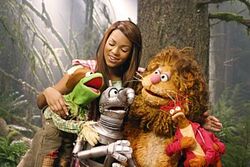 "When I'm With You" is performed by Dorothy, the Scarecrow, Tin Thing, the Cowardly Lion and Toto in the film, The Muppets' Wizard of Oz.
Lyrics
Kermit:
Where my brain should be, there's a cavity

Gonzo:
Where most folks have hearts, I have old spare parts

Dorothy:
Now, I'm on my own in a great unknown

Fozzie:
And it's more than one person can bear

Pepe:
Bear?

Fozzie:
Ahh! Where?

Kermit:
Well, now I've got some smart new partners
Who can help me think things through
Folks say I'm just a hick on a stick
Well, that may be true

Pepe:
Si, it's true.

Kermit:
But when my stuffing's not enough,
I know just what I should do, la-de do!
See, I don't miss the brains I'm missing
When I'm with you!

Gonzo:
I used to be romance compatible,
I wrote sonnets and waltzes and more!
But now that my heart is mechanical,
It only beats for on the floor!

Fozzie:
Ah, nice!

All:
But you've got friends
To stand beside you
And we'll reboot your OCPU

Gonzo:
Wow!
I don't miss the heart I'm missing
When I'm with you!

Fozzie:
I wish my stage fright weren't so terrible,
My jokes never garner a roar

Pepe:
We suggest you can try new material

All:
You see, that's what friends are for!

Dorothy:
Now, you can sleep without a nightlight,
And forgot every

Gonzo:
Creak, bang, and boom!

Fozzie:
Hey!
I don't miss the spine
I'm missing when
I'm with you!

All:
We've got something great together
So let's all get up and go

Kermit:
We'll overachieve

Gonzo:
Wear our hearts on our sleeves

Fozzie:
Get on with the show!

Dorothy:
Now, we are in the right direction
And I see all our dreams coming true!

All:
Yes, anything is possible
When I'm with you!

Pepe:
I feel so sexy!

Gonzo:
Wow, a shrimp that shimmies!

Fozzie:
Our acts unfloppable

Kermit:
Troubles are hoppable

Gonzo:
It's all so logical!

Dorothy:
We'll be unstoppable!

Pepe:
Cashmere is washable!

All:
Anything is possible
When I'm with you!

I'm with you!
I'm with you!
I'm with you!

I'm with...
You!
Releases
Audio