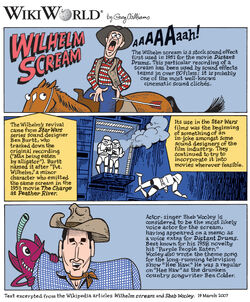 The Wilhelm scream ("Aaagh!") is a scream sound effect which was introduced in the 1951 western Distant Drums, a Warner Bros. film. It is often used as an audio in-joke in various works, including many animated films produced by Disney as well as several Lucasfilm productions prior to Disney's acquisition of the company.
Films and shorts
The Wilhelm scream is played at least once in every Star Wars movie, both before and after the Walt Disney Company's acquisition of the franchise.
The Wilhelm scream is played at least once in every Indiana Jones movie.
Other
TV series
Star Wars: The Clone Wars (2008 - 2020) - Heard in seven episodes.
Kick Buttowski: Suburban Daredevil (2010-2012) - Heard in the episodes "Battle For the 'Snax", "Kyle Be Back" "Rank of Awesome, "Faceplant!", "Kick or Treat", "Pinch Sitter", and "Bad Car-ma".
Fish Hooks (2010-2014) Heard in the beginning in two episodes, "Queen Bea" and "Dances with Wolf Fish".
Randy Cunningham: 9th Grade Ninja (2012-2015) - Used in several episodes, such as "Gossip Boy" and "Pranks for Nothing".
Wander Over Yonder (2013) - Scream heard once when Lord Hater's army faces off against Emperor Awesome's army in "The Picnic". It is heard again in "The Heebie Jeebies", coming from a bird that was referred to as a Wilhelm warbler.
Star Wars Rebels (2014) - Screamed during the pilot episode by a Stormtrooper.
Penn Zero: Part-Time Hero (2015-2017) - Heard once in every episode.
Sofia the First (2015) - Heard in the episode "New Genie on the Block" when Sofia runs into people on the police carpet while chasing Kazeem.
Future-Worm! (2016) - Heard in the episode "Future Danny and the Ghost Pirates of Tau Ceti".
Puppy Dog Pals (2017) - Heard for a split-second in the theme song before Rolly lands on a crab.
Tangled: The Series (2017-2020) - Heard in the episode "Make Me Smile" when a guard, and later Eugene, slips on a banana peel .
DuckTales (2017 series) - Heard in the episode "The Beagle Birthday Massacre!" when the Beagle Boys start a brawl.
Bluey (2018) - Herd in the episode "Mums & Dads" During the pretend battle
Amphibia (2019) - Heard in the episode "Prison Break" when the herons are attacking Toad Tower, "A Caravan Named Desire" as an actor falls off the stage when Renee attempts to escape via the caravan True Colors when a toad screams after being attacked by General Yunan and Frobo Commander Anne when One-Eyed Wally is eaten by a giant snake and "The Beginning of the End" during the fight between the resistance and King Andrias army.
Star Wars: Visions (2021) - Heard in the episode "Tatooine Rhapsody" during a fight that breaks up Star Waver's Performance.
The Book of Boba Fett - Heard in Chapter 7: In the Name of Honor, when a Pyke was thrown by the rancor.
Other
| | |
| --- | --- |
| | This page uses Creative Commons Licensed content from the Pixar Wiki. The list of authors can be seen in the page revision history (view authors). As with Disney Wiki, the text of the Pixar Wiki is available under the CC-BY-SA license. |