Grand Moff Wilhuff Tarkin
is the main antagonist of 
Star Wars: A New Hope
and the secondary antagonist of 
Rogue One
. He is a high ranking governor in the
Galactic Empire
. He had a very high position in the Empire, before he was killed when the
Rebel Alliance
blew up the
Death Star
.
During the Clone Wars, Tarkin served as a captain, later admiral in the Galactic Republic.
Background
Personality
Tarkin was intelligent, cunning, manipulative, ambitious, arrogant, and he had a strong sense of duty, and dignity, he was well-known for his sharp memory. He never forgot a favor or a slight and was capable of recalling individuals from meetings that took place over a decade before.
Although Tarkin (seemingly) cared about the welfare of the Galactic Republic, later the Galactic Empire, he was quite selfish, as everything he did was always for his own ambitions, even after Sheev Palpatine was revealed to be Darth Sidious, the traitor and enemy of the Galactic Republic, he still remained loyal to the latter, whom he had long been a major supporter of. Tarkin had no intention of overthrowing Sidious, although he dreamed of some day being in the position to fulfill his ambitions.
Tarkin had little respect for the Jedi and the Force, dismissing it as an "ancient religion", during the Clone Wars, Tarkin made no secret of his distrust for the Jedi and his belief that they were ill-suited to lead the Republic's war effort due to their traditional role as peacekeepers, although this view did not apply to all members of the order, as he developed a grudging respect for the hardened warrior Even Piell and admiration for Anakin Skywalker. Even after being saved on no less than half a dozen occasions by the Jedi, he continued to be disdainful towards them and made numerous attempts to diminish their authority in the Republic. When addressing the Jedi Council on the apparent treason of Ahsoka Tano, he disrespectfully dismissed their opinions on the matter as "irrelevant".
Tarkin dismissed their desire to try Ahsoka in accordance with Jedi tradition and insisted on having her transferred to military custody, claiming that an internal Jedi trial would be seem "biased", during Ahsoka's military tribunal before the Senate, Tarkin served as the prosecutor, and vowed to ensure both her conviction and execution, despite the fact that she had once saved his life, which really shows his ungrateful nature, while Tarkin ultimately failed to achieve his goal due to the confession of Barriss Offee, he listened with great interest as the Dark Jedi publicly denounced the corruption of the Jedi and the Republic. Tarkin's dismissive attitude persisted even after the Jedi Purge, where he believed them all to have died and initially refused to believe that Kanan Jarrus could be one.
Much like Emperor Palpatine, Tarkin was immoral, greedy, power-hungry, cunning, misanthropic, hateful, cruel and sadistic, he coldly ordered the Grand Inquisitor to execute Commandant Aresko and Taskmaster Grint for their constant failures to capture the Lothal rebels. This proves that he had no qualms about murdering his own allies in cold blood.
Tarkin had no regard for innocent lives, as he was perfectly willing to murder innocent individuals just to make example out of what happens to anyone who challenged the Empire, he lacks any form of honor, as he was perfectly willing to break his word if it suited him, like when he promised that he would not destroy the planet Alderaan, if Leia Organa told him where the rebels base was, and after she (apparently) did, he went back on his word, and destroyed the planet anyway. He expressed no guilt, shame or even remorse for this vile act of his.
Tarkin's arrogance was also to the point of underestimating his allies, enemies and former allies alike, like when he heard the rumors that one of the Lothal rebels is a Jedi, he did not believe it, as he believed they were all killed in the Jedi Purge, including Obi-Wan Kenobi, despite the fact he fought alongside them in the Clone Wars; completely disregarding there capabilities.
These negative traits of Tarkin's was what eventually led to his deserved death at the hands of Luke Skywalker; albeit indirectly.
Film Appearances
Revenge of the Sith
Tarkin was present with Emperor Palpatine and his new apprentice, Darth Vader, who were overseeing the construction of the Death Star together. He leaves soon after to take care of other affairs.
A New Hope
Tarkin became Grand Moff, and was placed in full charge of the Death Star and determined to use its destructive power to destroy the Rebellion. However, in order to find their secret base, he would need Princess Leia Organa to give up the location of the Rebel Base, but she refused to speak, despite numerous attempts to torture her into confession after she was captured and imprisoned in the Death Star's Detention Block. He decided to use some persuasion by threatening to use the Death Star to destroy Leia's home planet, Alderaan. When he reveals his intent to her later when she is brought to the bridge by Darth Vader, she tried to talk Tarkin down, begging him to spare her home planet, but he would have none of it as he asked for a final time for the location of the Rebel Base. This made her give away the location of the Rebel Base to be on Dantooine (apparently she was lying since the Rebel base on Dantooine was deserted, having been abandoned by the Rebellion for some time). Even though she gave in, Tarkin still went ahead in destroying her home world and gave the order to fire, killing millions of lives, including that of her adoptive father and one of the founders of the Rebellion, Bail Organa, while Leia watches helplessly as she is held back by Vader.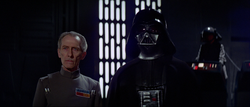 When the crew and passengers of the Millennium Falcon were captured and attempted to rescue the princess, Tarkin ordered all sections on the alert and have Darth Vader to assure they do not escape, especially when Vader tells him that he senses Obi-Wan Kenobi is on-board, even when Tarkin casts doubt that could be true, reminding Vader that the Jedi are dead and he is all that remains of their former Order. However, they did escape, except Obi-Wan Kenobi, who was killed by his former apprentice. Little did they know, the Imperials placed a homing beacon on their ship. Tarkin felt uneasy about letting them go because they were taking an extreme risk, but knew it was the only way they could find the Rebel Base, situated on the moon Yavin IV, having discoverd Leia had lied to them about Dantooine.
As the Rebels opened an attack on the Death Star as it began to orbit Yavin to get into firing position on Yavin IV, Tarkin had the station prepared for firing. Despite being warned of a dangerous chance that the Rebels may succeed, he denied any arrangements for evacuations and proceeded with the mission in hand. Unfortunately for him, his overconfidence would be the death of him, when Luke Skywalker fired two proton torpedoes down one of the Death Star's ventilation shafts which led to the reactor system. Then just moments before firing, he was killed along with the Death Star's destruction. Tarkin was unaware that the main gunner in charge of the superlaser, Master Chief Gunnery Officer Tenn Graneet, guilty over destroying Alderaan and slaughtering so many innocent lives, had tried to stall for time in the hopes the Death Star would be destroyed first before he had to destroy Yavin IV and wipe out the Rebellion, which was long enough for Luke to complete his mission and end the Death Star's threat for the time being. With Tarkin dead and the Death Star destroyed, Alderaan was avenged.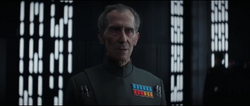 Tarkin makes an appearance in the Anthology film Rogue One.[1] He is portrayed by Guy Henry with a computer-generated face of Peter Cushing.[2]
Tarkin watches the last piece to be installed on the Death Star, when director Orson Krennic arrives. Nearing the planet Jedha, Krennic offers to use the Death Star to destroy the entire planet. However, Tarkin tells him to merely use a low-powered blast on the planet's capital Jedha City. After the Death Star used a single ignition blast to annihilate the capital and the nearby area, an impressed Tarkin reveals to Krennic that he will be taking command of the station as of now, using the security breach under Krennic's command as a pretext to remove Krennic from his position. He also tells Krennic to spread the story that Jedha City was destroyed in a mining accident, as he does not want the Senate to find out about the Death Star.
When the Scarif base is attacked by the rebels, Tarkin aboard the Death Star fires on the planet, killing Krennic and many rebels including Jyn Erso and Cassian Andor. But despite his efforts the rebels had managed to steal the plans of Death Star. When one of his men asked him if it was necessary to track down those who had stolen the plans, Tarkin informed him that Darth Vader took care of it.
Television Appearances
Tarkin appeared in this series as an officer of the Grand Army of the Republic. He demonstrates on numerous occasions that he has contempt for the Jedi.
In the pilot episode "Spark of Rebellion", Tarkin is mentioned twice by the Rebels. First by Sabine when she explains to Ezra why farm locals call their hometown Tarkintown, because he was responsible for kicking farmers of their farms when the Empire wanted their lands and anyone who tried to fight back got arrested for treason. As a result they named Tarkintown after Grand Moff Tarkin himself.
Tarkin is mentioned again by Hera when she tells the commander of an Imperial Transport ship that they got paid by him for the bounty of a Wookiee Prisoner: as part of a plan to get on board and rescue Wookiee prisoners.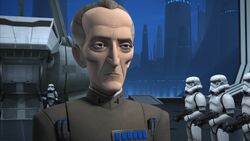 In the episode "Call to Action", Tarkin made a personal visit to Lothal to take over the hunt for the Rebels on Lothal after numerous failed attempts by Agent Kallus, Minister Tua, and The Grand Inquisitor, and upon his arrival immediately reprimanded the trio for their constant failures. When Minister Tua claims that the leader of the Rebels was a Jedi, Tarkin chastised her for this belief as from his point of view, the Jedi were all dead and he intended to seek out this "criminal" and show that he was not what he claimed to be.
To ensure better results, Tarkin had The Grand Inquisitor execute Cumberlayne Aresko and Myles Grint, illustrating that their weakness could threaten the stability of the Empire. His demonstration proved effective as it prompted the Grand Inquisitor and Kallus to successfully capture Kanan Jarrus at an Imperial Communication Tower. Tarkin arrived in person at the tower to bring the Jedi into custody and interrogate him, there he ordered his men to destroy the tower to prevent the Rebels from broadcasting their message to the public.
Upon returning to his ship, Tarkin began Kanan's interrogation by torturing him with help from the Grand Inquisitor and Agent Kallus but all their attempts to make him talk led to no avail. For a further and more effecting alternative to make the Jedi talk, Tarkin took Kanan to Mustafar where he would be tortured even more, even to death. However, Kanan was rescued by his fellow and other Rebel cells which resulted in the loss Tarkin's ship, the Sovereign. Tarkin escaped the destruction of his ship and returned to Lothal where Agent Kallus informed him of some unrest all over the planet. Train informed him that the Emperor had sent an alternative solution, Darth Vader.
About two years later, Tarkin then spoke with Governor Arihnda Pryce about securing Lothal. Tarkin listened to her fears about the rebels and how they threaten the Empire. He then asked Pryce what the empire should do. Pryce requested for the Seventh Fleet to deployed to Lothal. Tarkin then granted her request for the Seventh Fleet and it's commander, Grand Admiral Thrawn.
Tarkin then attended a briefing between Pryce, Kallus, and Konstantine. Konstantine attempted to convince Tarkin that Pryce was overestimating the rebels and did not pose a larger threat to the Empire. However, Grand Admiral Thrawn entered and believed that the rebels threat should remain that way. Tarkin then introduced Thrawn and told of them of Thrawn's promotion to Grand Admiral following his victory over the Batonn's insurgents. At this briefing, Tarkin asked Thrawn of what he thought of Pryce's theory about the Rebels. After reviewing the information about the rebels' rescue of Hondo Ohnaka from Naraka's prison, Thrawn concluded that the rebels next target would the Y-wing starfighters at Reklam Station.
In Printed Media
Tarkin plays a prominent role in the Star Wars Darth Vader: Dark Lord of the Sith comics series by Marvel Comics. His appearances were predominantly in "The Chosen One", "Burning Seas" and "Bad Ground" story arcs. During these subsequent arcs, Tarkin's relationship with Vader is established, with the Imperial commander aiding Darth Vader in an attack on the water world of Mon Cala to kill Jedi Knight Faren Barr and subjugate the Mon Calamari and the Quarren people. In "Bad Ground", after the success of their mission, Vader commissions Tarkin to a challenge: to hunt the Sith Lord. Tarkin accepts, and assembles a team to do so, but finds that every time he gains an advantage over the Sith, Vader manages to overcome it, eventually culminating in Vader eventually subduing Tarkin even as he is struck by lightning and his life support systems are temporarily shut down, leading the Grand Moff to realize Vader is ultimately unstoppable by any means Tarkin can create thanks to his abilities with the dark side of the Force.
Video Games
Grand Moff Tarkin is a playable character in Star Wars: Force Arena as a Legendary squad leader card.
Relationships
Tarkin developed great respect for Palpatine, and the Supreme Chancellor took an interest in his carrer, when Palpatine proclaimed himself Emperor, Tarkin joined the ranks of the newly born Imperialists, and was placed in charge of the Construction of the Death Star and became the first Imperial to become a Grand Moff. He was also one of the few individuals who knew that the Emperor was the Dark Lord of the Sith.
Tarkin developed respect for Anakin due to the fact both were hardliners, this became strained after Ahsoka was framed by Barriss Offee. Anakin saw right away that Ahsoka had been framed, and had just been in the wrong place at the wrong time, but Tarkin refused to even see this, and viciously and relentlessly prosecuted Ahsoka despite the fact that there was virtually no actual evidence of her so-called treason.
After Anakin became Darth Vader, Tarkin was the first to meet the newborn Sith Lord, Tarkin first met Vader after the Emperor placed him in charge of the Construction of the first Death Star, they began working together after some lost Jedi were traced to Kashyyyk, Tarkin urged Vader to let the Jedi land onworld so they could use their presence as a pretext to invade the planet, and enslave the Wookies so they could be used to help construct the Death Star. Tarkin was impressed by Vader's leadership during the Subjugation of Kashyyyk, and asked the Emperor if he could call on Vader's services when he needed them.
Although Tarkin had a good working relationship with Vader, whom he found efficient, and considered an ally in the Imperial hierarchy, he was also unsettled by Vader's supernatural powers, and mysterious nature, and disliked it when Palpatine used Vader as a check on Tarkin himself, although Tarkin respected Vader, he (secretly) did not trust or personally like him, possibly because Vader relied heavily on the Force. Tarkin was one of the few individuals who knew that Anakin, and Vader were one-and-the same.
Ahsoka, and Tarkin had an intense dislike for each other, Tarkin disliked her for her starry-eyed view of life, and Ahsoka disliked him for his disdain for the Jedi Order, as well as for his arrogance, and rude comments. Despite Ahsoka's disdain for Tarkin, she saved him from being thrown into a lava river.
The enmity between the two was intensified when Ahsoka was framed for murder, and treason; Tarkin, like most of the Jedi, he refused to believe in her innocence, and the rising body count only convinced him that Ahsoka was guilty even after Padmé Amidala pointed out he had no real proof, and that the evidence that was present proved otherwise.
After Ahsoka was proved to be innocent, Tarkin didn't apologize to her, and the two have been enemies ever since; because after the birth of the Galactic Empire, Ahsoka helped Bail Organa establish the Rebel Network and Tarkin joined the ranks of the newly born Imperialists. Ironicly, Tarkin's prosecution of Ahsoka caused his death because the Rebel Network later became the Rebel Alliance.
Tarkin, and Obi-Wan work together very well during the Clone Wars, however, unlike Tarkin's relationship with Anakin Skywalker, he never respected Obi-Wan for no clear reason; simply due to the latter being a Jedi.
Despite the fact Tarkin fought alongside Obi-Wan in the Clone Wars, he arrogantly underestimated his former ally's capabilities, believing that the latter was killed in the Jedi Purge.
Trivia
Gallery
Screenshots
Miscellaneous
External links
References
Community content is available under
CC-BY-SA
unless otherwise noted.