William Shakespeare was an English poet and playwright, widely regarded as the greatest writer in the English language and the world's preeminent dramatist. He is often called England's national poet and the "Bard of Avon". Although he lived long before movies or television, his name and works were used in some Disney movies and characters.
Shakespeare's works have been adapted several times by Disney: Hamlet was loosely adapted as The Lion King, while Romeo and Juliet has been adapted as The Lion King II: Simba's Pride and Gnomeo & Juliet. A Midsummer Night's Dream was adapted into Strange Magic, Taming of the Shrew was adapted into Ten Things I Hate About You and various elements of his plays were added into Gargoyles.
Disney films based on his plays
Appearances in Disney productions
Short films
In the Donald Duck cartoon, Trick or Treat, Hazel the Witch says one of the famous lines in Shakespeare's Macbeth while making the witch's brew: "Double, bubble, toil and trouble, fire burn and cauldron bubble."
Animated features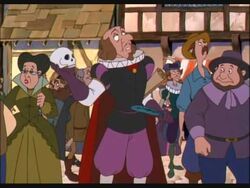 In Pocahontas II, Shakespeare made a small cameo appearance, where he is seen singing with the townspeople and after holding a skull, he is seen writing something, probably the plot for his next masterpiece, Hamlet. However, in real life, Shakespeare died two months before Pocahontas came to England for the first time.
In Soul during the part where Joe Gardner and 22 arrive in the Lost Souls area at the Great Before, 22 throws a ball of dust on a Soul of a theatre actress reciting her line for the Romeo and Juliet play, causing the actress to forget her line and tell the director what her line is for the play.
Animated television shows
Live-action TV shows
The two-part season 7 of The Golden Girls "A MidWinter's Night Dream" takes its name from A Midsummer's Night Dream. In the end, Dorothy compares the episode's event to the Shakespeare play and quotes Puck's closing lines.
The season 2 episode of Jessie "To Be Me or Not To Be Me" takes its name from the famous Hamlet line "To be or not to be", in the episode Jessie performs Macbeth in a Shakespeare in the Park play.
In The Book of Pooh episode, "Honey Glazed Hamlet", Owl has memories of Shakespeare from his days at Oxford.
Bear quotes William Shakespeare in the episode "Words, Words, Words", and comments "I hear he was pretty good with words." The lines quoted by Bear are from Shakespeare's Sonnet 18.
Live-action features
In The Absent-Minded Professor, Elliot Reid quotes from Hamlet: "That he's mad, 'tis true, / 'tis true 'tis pity, / And pity 'tis, 'tis true".
In Dead Poets Society, Neill played Puck in a performance of A Midsummer's Night Dream
In George of the Jungle, during the scene where George saves a parasailor from trouble on the bridge, he quotes: "To swing or not to swing?"; a reference to the line "To be or not to be?" from Hamlet.
The "Double, bubble, toil, and trouble" line was also used in Halloweentown by Agatha Cromwell while turning on the microwave making the Witch's Brew. It is also revealed in Halloweentown High that Agatha was one of Shakespeare's actresses.
Shakespeare was caricatured as one of the schoolroom busts in The Muppet Christmas Carol.
The film Shakespeare in Love presents a fictionalized version of Shakespeare.
Other
Gallery
William Shakespeare
Shakespearean roles
Gargoyles characters inspired by Shakespeare
Community content is available under
CC-BY-SA
unless otherwise noted.