This Castle is the home of Willie the Giant, the main antagonist of the Fun and Fancy Free segment Mickey and the Beanstalk. It is a gigantic castle located high in the clouds, it is surrounded by a moat and a small grove. The only entry is a giant beanstalk. If in the cartoon, the beanstalk is the way to accede at the forest surrounding the castle, in Once Upon a Time, it allow to directly enters in the castle. In the show, many characters like Prince James, Jack, Captain Hook, Emma Swan and Cora come here for stolen gold, magic beans, or to find a magic compass.
In Fun and Fancy Free, the castle's interior has a gigantic dining hall, with an enormous table on which is served an endless feast with an extraordinary variety of dishes, desserts, drinks and fruits. That's where Willie, the giant, has his meals and keeps the Golden Harp as a prisoner.
It is implied that there are also other rooms in the castle, but we don't know much of them. One of them is most likely Willie's bedroom.
After the events of Fun and Fancy Free, it is presumed that Willie couldn't return, since he is seen living on a farm very different from the castle.
v - e -

d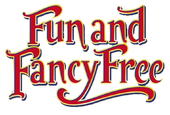 Disney Parks
Sir Mickey's