Winnie the Pooh is an American Walt Disney franchise, based on A.A. Milne's Winnie-the-Pooh stories. The Disney media franchise commenced in 1966 with the theatrical release of the short Winnie the Pooh and the Honey Tree.
Disney's Pooh was originally voiced by Sterling Holloway in the three original Winnie the Pooh featurettes that were later used as segments to 1977 theatrical film The Many Adventures of Winnie the Pooh. Hal Smith took over for the 1981 short film Winnie the Pooh Discovers the Seasons, and would maintain the role until Jim Cummings began voicing Pooh in 1988 television The New Adventures of Winnie the Pooh (1988–1991). Cummings continues to voice Pooh (as well as Tigger) to this day.
Overview
In the midst of a 2003 battle where Disney stood to lose commercial rights to Winnie the Pooh, The Telegraph noted "Losing control of the Winnie the Pooh franchise would be a disaster for Disney. Analysts believe Pooh is worth $3 billion-$6 billion of Disney's total annual sales of $25 billion." According to a 2013 Variety article, Winnie the Pooh is the third best-selling franchise in the world, after Disney's own Disney Princess and Star Wars. The New York Times said: "The stakes are high for Disney. Global sales of Pooh merchandise — books, plush toys, T-shirts, potty chairs — have fallen 12% over the last five years, but still account for a staggering $5.5 billion," adding, "Pooh...remains Disney's second best-selling character after Mickey Mouse." It noted "Branding experts say aging character franchises are among the most difficult to keep alive because they require continually walking a tightrope. 'With Winnie the Pooh, Disney is going to continue to struggle with the tension of remaining relevant to kids versus maintaining a love-mark brand that parents trust,' said Matt Britton, a founder of Mr. Youth, a New York marketing firm." In a 2014 overview of Disney's top franchises, CNN wrote: "Pooh may have been born in the 1920s in A.A. Milne's books. But the bear is still going strong via Disney movies and DVD's. Pooh Bear sells games, stuffed animals, clothing, and even iPhone and iPad apps. Pooh is also a favorite subject in books from Disney Publishing Worldwide, the world's largest publisher of children's books and magazines with more than 700 million products sold each year."
Feature films
Sebastian Cabot narrates the adventures of jolly bear Winnie the Pooh as he seeks out and deals with complications from his search for honey, weathers a wind storm and subsequent flood, and endures the foibles of the hyperactive tiger Tigger. Winnie the Pooh, Piglet, Kanga, Roo, Eeyore, and Tigger round out the menagerie in the irresistible film adapted from A.A. Milne's series of children's books.
The film sees Tigger realize the implications of the fact that "the most wonderful thing about tiggers is" he's "the only one!" when the residents of the Hundred Acre Wood tire of his antics, and goes on a search for the tigger family tree.
Piglet becomes fed up after being excluded from a honey-thieving scheme, so strikes out on his own to do some thinking. When the residents of the Hundred Acre Wood discover he's missing, the only clue they have to go on is a scrapbook he left behind.
Winnie the Pooh, Piglet, Tigger, and Roo search for a mysterious and fearsome creature that has entered the Hundred Acre Wood, but Roo discovers that the creature is not what it seems.
What bear could be more loveable than the honey-eating, huggably pudgy, sweet-hearted Winnie-the-Pooh? Certainly his owner, Christopher Robin, can't find one! Upon learning that Eeyore has lost his tail, the residents of the Hundred Acre Wood start a contest to see who can find a new one for the melancholy donkey — with a pot of honey going to the winner. Amid the goings-on, Owl mistakenly relates the news that Christopher Robin has been abducted. However, all ends well when Pooh finds a land of sweet delights.
Christopher Robin is now all grown up and has lost all sense of imagination. Pooh, Piglet, Tigger, and the residents of the Hundred Acre Wood re-enter Christopher's life to help him find it again.
Direct-to-video films
It's time for Christopher Robin to go to school, which means he's unable to keep regularly visiting with the charming bear Winnie the Pooh. But when Pooh misreads a letter from Robin, he thinks his playful friend has been snatched and taken to a faraway land by the mysterious "Skullasaurus". Along with Tigger, Piglet, Eeyore, and Rabbit, Pooh journeys to the terrifying place to rescue their friend, meeting many frightening obstacles along the way as the group deals with their own insecurities in a coming of age story for all of them.
The feature-length tale is a set of several holiday stories; as Pooh Bear, Piglet, and Tigger set out to find the right ingredients for Winter, Rabbit learns how to manage a complicated Thanksgiving dinner; Piglet is forced to becoming the local Groundhog; and everyone gets a special visit from a old friend.
Join Winnie the Pooh as he and his beloved friends explore the world of Christopher Robin's stories and lessons, in an all-new style blending puppets and computer animation. A.A. Milne's classic characters have never come to life more vividly than in this delightful feature-length movie, with six heartwarming new songs.
After celebrating Christmas in the Hundred Acre Wood, the countdown to the New Year begins while Rabbit succumbs to a case of the winter blues. Seeing the change in their newly grumpy friend, the residents of the Hundred Acre Wood decide on some New Year's resolutions that result in drastic changes.
Roo gets excited about Easter, however, Rabbit instead declares the day "Spring Cleaning Day", hurt over when Tigger usurped him as leader of Easter the previous year.
On their first Halloween together, Roo and Lumpy gather the courage to search for the Gobloon, a creature that can grant wishes.
Darby, Pooh Bear, Tigger, and the rest of the gang are out to save Christmas when they find a reindeer caught in a web of jingle bells. How will Santa deliver all those presents when one of his key helpers is stuck in a mess like this, they wonder, and so they're determined to bring him back to the North Pole. But the journey to Santa's home isn't so easy, and they're soon in a bit of a pickle themselves. The spirit of Christmas is alive in this touching holiday adventure, where the gang discovers that friendship is the greatest gift of all.
Rabbit creates many new rules as the Mayor of the Hundred Acre Wood, leading Tigger to challenge him for mayorship and causing a Big White Line to be drawn, dividing the Wood.
This wonderfully animated adventure for children follows Pooh, Tigger, Darby, and the residents from the Hundred Acre Wood as they set off on a full-length adventure involving a shooting star that causes all of Rabbit's vegetables to become gigantic - and to grant superpowers to everyone who eats them.
Short films, specials, and featurettes
Winnie-the-Pooh, a overweight toy bear, attempts to raid a beehive in a tall tree. After failing, he goes to Rabbit's house and eats all of his honey, making him too bloated to leave when he gets into a very tight place.
Winnie the Pooh and his friends experience high winds, heavy rains, and a flood in Hundred Acre Wood.
Amusing Rabbit is tired of a rambunctious tiger Tigger always bouncing him, so he gets Pooh and Piglet together to come up with an idea to get the bounce out of Tigger. Then, Tigger and little Roo go out for a bounce and get caught in a tree.
Christopher Robin gives Winnie the Pooh a calendar, and Pooh uses it to learn about the seasons.
Eeyore, one of the children's resplendent literature characters, thinks everyone in the Hundred Acre Wood has forgotten his birthday. When Winnie the Pooh and his friends realize their oversight, they prepare a huge celebration with chocolate cake and a birthday game.
It's Christmas, but Winnie the Pooh and his friends are worried about Santa Claus, except Christopher Robin.
Piglet's fear of the spooky side of Halloween threatens to ruin the party he is attending with Pooh, Tigger, and their friends. Can Pooh help him to find the courage before Halloween becomes "Hallo-wasn't"?
It's Thanksgiving time in the Hundred Acre Wood and Winnie the Pooh and all his friends bring food for the big dinner. Piglet brings acorns, Pooh brings honey, Owl brings biscuits, Gopher brings lemonade, and Tigger brings ice cream. But then, Rabbit walks in and tells them their Thanksgiving dinner was unacceptable and informs them that a real Thanksgiving dinner includes turkey, cranberry sauce, and pumpkin pie, so Pooh and his friends set out to find those very items.
Growing up presents some difficult challenges, and when Christopher Robin seems to be interested in a girl, Winnie the Pooh, Piglet, and their friends fear that their friend will abandon them. Convinced that a second bite from the love bug will cure him of his lovesickness, the group sets out to explore the Hundred Acre Wood in search of the mysterious "Smitten."
Television shows
Winnie the Pooh's very first live-action television series. The popular "Pooh Corner" consisted of a mix of full-body costumes and radio controlled 'puppetronics' that kept the mouths and eyes moving. For a cable series, the show was very popular during its 1983-1986 run on the Disney Channel.
Loyal toy bear Winnie the Pooh stars in this whimsical animated series adapted from A. A. Milne's classic children's books that depict the misadventures of Pooh and his friends. Each episode highlight the importance of cooperation and friendship as they solve the problems that come their way and embark on many epic adventures. This whimsical animated series is designed to simultaneously entertain and educate children.
Winnie the Pooh, Piglet, Tigger, Eeyore, and their beloved friends from the Hundred Acre Wood joins together in a delightful series that shows the children the value and importance of friendship, within a set of fun and exciting adventures.
Follow a 6-year-old girl named Darby and her puppy Buster, who join Pooh and Tigger on adventures in the Hundred Acre Wood. To help solve mysteries Pooh and Tigger wear homemade superhero costumes and become Super Sleuths. With their new beloved friend Darby they tackle some of the Hundred Acre Wood's wonders.
Video games
Ownership controversy and drastic changes
During his lifetime, Milne was liberal with his grant of rights. At times he licensed the same exclusive rights to more than one entity.
In the United States, Dutton publishers acquired exclusive volume publication rights and Stephen Slesinger, Inc., acquired sole and exclusive rights to virtually all uses outside of the Dutton books as well as rights to any sorts of future uses. Beginning in 1930 Stephen Slesinger created all of the distinctive and colorful images of Pooh outside of the books. Under license from Slesinger, Pooh made his debuts in radio, film, animation, children's theatre, advertising and a host of consumer products and services protected by trademark. Outside of the U.S. and Canada, Milne retained most of his literary copyright rights which he left to four beneficiaries of his trust: The Garrick Club, Westminster School, The Royal Literary Fund and the A. A. Milne Family. By direction of Milne's will, the Pooh Properties Trust was formed. Mrs. Milne, trustee of the Milne Estate and Spencer Curtis Brown, Trustee, licensed certain exclusive film rights to Disney in 1961. Christopher Robin Milne sold his rights to the other copyright holders, in order to raise money to support his daughter, before his death in 1996.
Sometime around 2000, the Pooh Properties Trust licensed additional rights to Disney and accepted a buyout from of their claims to royalties as defined in a 1991 lawsuit brought by Stephen Slesinger, Inc. Although Slesinger's rights are arguably more valuable, the combined value paid by Disney to The Pooh Properties Trust is said to be approximately $300 million for Milne's portion of those rights.
To further minimize Disney's legal exposure to Slesinger, Disney paid money to the Pooh Properties attorneys and trusts to use the name of Clare Milne, daughter of Christopher Robin, in an attempt to terminate certain of the copyright rights of Stephen Slesinger Inc, in the wake of the Sonny Bono Copyright Term Extension Act of 1998. The district court found in favor of Stephen Slesinger, Inc., and as did the U.S. Court of Appeals for the Ninth Circuit. On Monday, June 26, 2006, the U.S. Supreme Court refused to hear the case, thus sustaining the Appeals Court ruling.
In December 2005, Disney announced that Pooh's friend and owner Christopher Robin would be replaced by a six-year-old "tomboyish" red-haired girl named Darby for the Disney Channel animated television series, My Friends Tigger & Pooh. Christopher Robin appeared intermittently in the series.
In January 2021, the original 1926 book entered the public domain. However, Disney still retains their iterations of the characters and still have total ownership of the character of Tigger due to him having debuted two years after the original book.
See also
v - e - d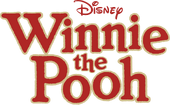 Songs
Movie Songs
Winnie the Pooh and the Honey Tree: "Winnie the Pooh" • "Up, Down, Touch the Ground" • "Rumbly in My Tumbly" • "Little Black Rain Cloud" • "Mind Over Matter"
Winnie the Pooh and the Blustery Day: "A Rather Blustery Day" • "The Wonderful Thing About Tiggers" • "Heffalumps and Woozles" • "Rain, Rain, Rain Came Down, Down, Down" • "Hip-Hip-Hooray!"
Boo to You Too! Winnie the Pooh: "I Am Not Afraid" • "I Wanna Scare Myself"
Pooh's Grand Adventure: The Search for Christopher Robin: "Forever & Ever" • "Adventure is a Wonderful Thing" • "If It Says So" • "Wherever You Are" • "Everything is Right"
A Winnie the Pooh Thanksgiving: "Hooray, Hooray!" • "Berrily We Roll Along" • "Our Thanksgiving Day" •
Winnie the Pooh: Seasons of Giving: "Seasons of Giving"
The Many Songs of Winnie the Pooh: "It Really Was a Woozle, Yes it Was"
Sing a Song with Pooh Bear: "Kanga Roo Hop" • "Harvest What You Grow" • "My Song"
Winnie the Pooh: A Valentine for You: "Girls are Like Boys" • "When the Love Bug Bites" • "Places in the Heart"
Winnie the Pooh: A Very Merry Pooh Year: "Jingle Bells" • "Snow Snows" • "Happy Pooh Year" • "Hunny, No Not For Me" • "Auld Lang Syne"
The Tigger Movie: "Someone Like Me" • "Whoop-de-Dooper Bounce" • "Lull-a-Bee" • "Round My Family Tree" • "How to Be a Tigger" • "Your Heart Will Lead You Home"
Piglet's Big Movie: "If I Wasn't So Small" • "A Mother's Intuition" • "With a Few Good Friends" • "Sing-Ho (For the Life of a Bear)" • "The More It Snows (Tiddely-Pom)" • "The More I Look Inside" • "Comforting to Know"
Springtime With Roo: "We're Huntin' Eggs Today" • "Sniffley Sniff" • "Easter Day With You" • "The Way It Must Be Done"
Pooh's Heffalump Movie: "Little Mr. Roo" • "The Horribly Hazardous Heffalumps" • "The Name Game" • "Shoulder to Shoulder" • "In the Name of the Hundred Acre Wood/What Do You Do?"
Pooh's Heffalump Halloween Movie: "Trick 'R Treating With Our Friends" • "Brave Together"
Winnie the Pooh: "The Tummy Song" • "A Very Important Thing to Do" • "The Winner Song" • "The Backson Song" • "It's Gonna Be Great" • "Everything is Honey" • "Pooh's Finale"
Christopher Robin: "Goodbye, Farewell" • "Busy Doing Nothing" • "Christopher Robin"
Television Songs
Welcome to Pooh Corner: "Welcome to Pooh Corner Theme Song" • "Try a Little Something New" • "The Right Side" • "Yes, I Can" • "You're the Only You" • "I Hum to Myself" • "Please and Thank You" • "Responsible Persons" • "You're the One and Only One" • "Welcome to Pooh Corner Ending Theme"
The New Adventures of Winnie the Pooh: "Pooh Bear" • "'Cause It's Make Believe" • "The Floating Song" • "Nothing's Too Good for a Friend" • "Under the Bed" • "I Don't Have A Name" • "King of the Beasties" • "The End" • "Pirates is What We'll Be" • "Tigger the Private Ear is Here"
The Book of Pooh: "Everyone Knows He's Winnie the Pooh" • "Goodbye for Now" • "Your Best Wishes" • "On the Double" • "Who is Me" • "Think, Think, Think" • "What Piglets Are" • "I Watch for Signs" • "We're Making a Cake" • "If I Could Be Big" • "Isn't That Funny?" • "Everyone Wants a Valentine" • "That's What We Do" • "Keep it Simple" • "Have You Got a Book For Me?" • "Give It a Try" • "On Your Way Back Home" • "The Birdbird Song" • "Nightmare Wranglers" • "Carry On" • "What's Your Name, River" • "Where Do Words Go?" • "Under a Spelling Bee's Spell" • "Adventure" • "Mental Altitude" • "I Want to Know Everything Now" • "Happy Tailiversary" • "Get Growin'" • "Tigger's Lullaby" • "Perfect Party" • "If We Were Talkin'" • "Someone New to Meet" • "My Hero" • "Broken Friendships" • "Do the Roo" • "Call Me Buck-a-Roo" • "At Chez Piglet" • "Nothing Ever Happens" • "Too Much Honey" • "Lost in a Book"
My Friends Tigger and Pooh: "A Few Simple Rules" • "Bouncin'" • "The Grass is Greenier" • "The Password Song" • "Underneath the Same Sky" • "One Big Happy Family" • "Think, Think, Think" • "The Question Song" • "Floating in a Cloud" • "Different Can Be Good" • "The Little Things You Do" • "There's a Party" • "No More Fun In the Snow" • "Butterflies" • "What Makes a Pony a Pony" • "When We Work Together" • "Christmas Comes Tomorrow" • "Time to Go (On a Trek Through the Snow)" • "Snowman Song"
Miscellaneous: "Luv-a-bye" • "Playtime Song" • "Learning Song" • "Friendship Song" • "Snug as a Bear Can Be" • "The Scrapbook Song"