Wonders of Life was a pavilion in the Future World section of Epcot. It officially opened on October 30, 1989,[1] following a soft opening on October 19. After a period of several years running in seasonal operation, it closed in 2007, with space mostly abandoned and used as a Festival Center until 2018.
History
The idea of a pavilion devoted to health and fitness dates back to the original concept of the EPCOT Center theme park, but no corporate sponsor could be found to cover the costs. It was not until MetLife signed on that the pavilion was finally constructed, and it featured two main attractions Cranium Command and Body Wars, the first thrill ride located in EPCOT. Also featured were a theater (The Making of Me), a restaurant, and interactive attractions that evolved around the idea of health and wellness.
In December 2003, it was announced that the pavilion would be placed into seasonal operation beginning in January 2004.[2] While the pavilion is still occasionally used for special events, its attractions have not been open to guests since January 2007, though indications suggest that Body Wars and Cranium Command still exist behind locked doors. Today, the pavilion is used as The Epcot Festival Center where they showcase various foods and wines during The Food and Wine Festival and many different HGTV chefs and gardeners during the Flower and Garden Festival.
In 2019, it was announced that the Wonders of Life would become a new "PLAY! Pavilion" (in the future site of World Discovery) that will serve as a new meet and greet space in the form of a futuristic city resembling the Ralph Breaks the Internet interpretation of the Internet.[3]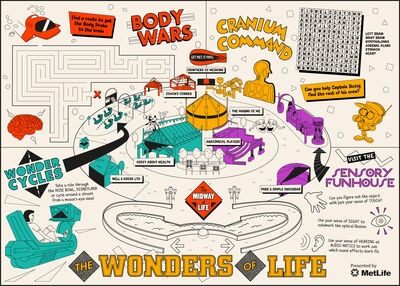 Attractions
Wonder Cycles
Froniters of Medicine
Coach's Corner
Fitness Fairgrounds
Sensory Funhouse
Audio Antics
Wonder Cycles
Entertainment
Restaurants
Shops
Special Events
For Epcot's International Flower & Garden Festival, the pavilion is open as a Festival Center featuring
Intermissions Café
HGTV Designers Stage
Greenhouse Stage
HGTV Theater
Ask an Expert
Planting Pointers
Gallery
References