Woody's Round-Up
is a whip ride in
Disney·Pixar Toy Story Land
at
Shanghai Disneyland
.
A similar ride known as "Alien Swirling Saucers" themed to the Little Green Men is located in Toy Story Land at Disney's Hollywood Studios and will soon come to Toy Story Playland at Walt Disney Studios Park[1].
Summary
Woody's Round-Up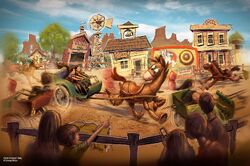 Near the edge of the backyard, Andy Davis set up one of his favorite playsets—a whimsical Western town and stable from when he was young. But once his mom called him away, Woody and Jessie came to life and wasted no time in letting all the toy ponies out to play. After hitching the ponies to carts, the duo began welcoming Guests to take a tune-filled spin and "do-si-so" around the corral.
Just past an Old West wagon, guests'll journey down a desert pathway—passing a dried-out creek and crossing over bridges until they reach Woody's Roundup. As they mosey inside, they'll come upon kinds of Toy Story props and "Wanted" posters before reaching the pony pen. Then, when it's time to dance, the ponies and board its cart as a nearby toy radio starts to play finger-snapping songs from "Woody's Finest Musical Hour," including the Toy Story classic "You've Got a Friend in Me." The hoof-tappin' hoedown begins as the ponies enjoy a square dance, swinging their carts—with you inside—to the sound of downhome, country-flavored melodies. It's just the sort of swingin', swirlin' experience that would inspire anyone to get out and dance especially the ponies.
Alien Swirling Saucers
This attraction is designed as a toy play set that Andy got from Pizza Planet when he was young, inspired by the first Toy Story film. Little Green Men are flying around in their toy flying saucers and trying to capture your rocket toy vehicle with "The Claw."
As they rotate around the toy planets and satellites as part of the game, guests'll swirl to the beat of fun "Space Jazz" music developed just for this experience. The music, the lighting, and the sound effects will add to the flurry of your adventure while "The Claw" looms ominously over you.
See also
Gallery
References
Community content is available under
CC-BY-SA
unless otherwise noted.