Boba Fett Returns - The Loop
Play Sound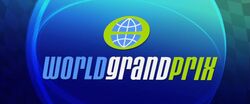 The World Grand Prix (often shortened to WGP) is a new competition which is at the center of the 2011 Disney/Pixar animated film, Cars 2. Notable participants in the race are Lightning McQueen and Francesco Bernoulli
Cars 2
In Cars 2, the World Grand Prix is created by Miles Axlerod to promote his new clean fuel Allinol. The competition unites the eleven best racers of all race types to determine the world's fastest car. The event is composed of three races: Japan, Italy, and England.
The World Grand Prix is the target of a plot to sabotage the race directed by the evil weapons designer Professor Z. The British master spy Finn McMissile discovered the plot and organized himself to stop it.
Trivia
Originally, the World Grand Prix was to be composed of five races. Paris would have hosted a "Le Mans-style 24-hour race", and in Germany's Black Forest a "DTM-style rally race" would have taken place. But these races were abandoned because it was too much story to tell.[1] However, in the Nintendo DS version of Cars 2: The Video Game, they do appear.
The name "World Grand Prix" changes languages depending on the country; for example, in Italy: Mondiale Grand Prix; in Japan: ワールドグランプリ (Wārudoguranpuri). There are also exceptions; for example, in Polish.
The World Grand Prix has a mascot whose name was revealed to be Globie.
There are no pit stops witnessed in any of the races but they are available, as mentioned by Acer.
London was chosen as one of the host cities of the World Grand Prix to coincide with the 2012 Summer Olympics that would be held a year later.
Most of the race courses in London, Tokyo, and Italy are Street Circuits.
Of all the runners, Francesco Bernoulli is the only one who was not a victim of the Lemons.
Gallery
References