World Nature is a land in Epcot themed around a dedication to understanding and preserving the beauty, awe and balance of the natural world, announced at the 2019 D23 Expo on August 26, 2019.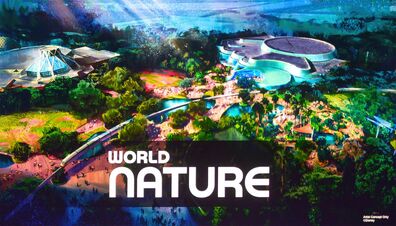 World Nature consists of the former Future World West, including existing pavilions The Land and The Seas, and includes the addition of Journey of Water, inspired by the 2016 Walt Disney Animation Studios feature, Moana.
Attractions
Future Attractions
Shopping
The Land

Soarin' Tour Desk
Green Thumb Emporium

The Seas

Sea Base (1986-)

Turtle Talk with Crush (2004-)
Bruce's Shark World
Manatees Rehabilitation Center
Ocean Life - Reef Ecosystems
Nursery - Coastal Ecosystems
Lockout Chamber

Gift Shop
Diving Tours

Epcot DiveQuest
Epcot Seas Aqua Tour (2002-)
Dolphins in Depth
Restaurant
The Land

The Land Cart
Sunshine Seasons

Asian Shop
Sandwich Shop
Soup/Salad Shop
Wood-Fired Grill Shop
Bakery
Breakfast

The Seas
Pavilion facts, services and figures
Pavilion capacity: 3,600 persons
Pavilion size: 253,780 square feet (24,000 m²) Roughly the size of Fantasyland in the Magic Kingdom of Walt Disney World.
There is a VIP room at the top of the Pavilion accessible by pressing the elevator buttons in a certain sequence. The meeting room looks down on parts of the Living with the Land attraction.
VIP room
This pavilion has a backstage VIP room that is used for private events, such as weddings and conventions. The room is a long, curved room, with wood-paneled walls. One side has floor-to-ceiling windows into the aquarium. The room also has an acrylic glass see-through piano.
Consultants and advisers
Gallery
Pavilion Icons
Attractions poster
Concept Art
Trivia
References