The World Showcase is a section of Epcot that consists of 11 pavilions, each themed to a different country. The pavilions are situated around the World Showcase Lagoon.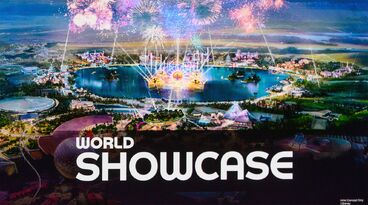 As part of the park's massive overhaul beginning in 2019, World Showcase is a land in EPCOT themed around a celebration of culture, cuisine, architecture and traditions – infused with new magic, announced at the 2019 D23 Expo on August 26, 2019.
History
World Showcase can conceptually trace its roots to 1955, when an International Street was proposed for Disneyland as a themed area that would be located behind eastern Main Street USA. A larger International Land based around European locations was also proposed in 1956 for the space between Fantasyland and Tomorrowland, with a boat ride on the "Rivers of Europe" being a centerpiece. However, this would be dropped in favor of the Matterhorn Bobsleds.
An internationally themed shopping and dining district was proposed for Walt's original city concept for EPCOT, existing within the central hub of the city surrounding the central Hotel tower. When the city was dropped after Walt's death, the international shopping and dining district was planned to be repurposed into Walt Disney World's second gate in 1972 and took on the name World Showcase. Plans and models showcased in 1974 for World Showcase placed it on the shores of the Seven Seas Lagoon adjacent to the Transportation and Ticket Center. Two semi-circular structures, similar to the CommuniCore buildings, would house multiple international exhibitions in a neutral space, only varying in size and structure towards the back depending on how much space a country would want to use. Interest in this World Showcase was highly favorable in attracting international sponsors and in late 1975, Disney planned on moving forward with construction with plans to open in 1979.[1]
However, the energy crisis of 1976 and concerns of sinkhole troubles on the proposed site would result in the plans for World Showcase and the Future World Theme Center being merged into a single park that would be placed further south on the property. By 1977, Epcot began to take on its current shape, with the World Showcase now being built around a lagoon and taking on its format of each pavilion showcasing its respective architecture. When the park opened in 1982, World Showcase featured nine pavilions, with Morocco opening in 1984 and Norway opening in 1988.
Pavilions
Other Areas
Showcase Plaza
World Showplace
The Outpost
Attractions
Future Attractions
Former Attractions
Showcase Plaza
Current Dining
Refreshment Port
Promenade Refreshments
Frozen Ever After Dessert Party at Epcot World Showcase
Espresso, Coffee, and Pastries near Disney Traders
Former Dining
Shops
Port of Entry
Disney Traders
Entertainment
Current
Former
Carnival de Lumiere (premiered October 23, 1982)
A New World Fantasy (premiered 1983)
Laserphonic Fantasy (premiered June 9, 1984)
IllumiNations (January 30, 1988 – September 20, 1996)
IllumiNations 25 (A) (September 21, 1996 – May 18, 1997)
IllumiNations 25 (B) (May 19, 1997 – January 31, 1998)
IllumiNations (98) (February 1, 1998 – September 21, 1999)
Surprise in the Skies (1991–1992)[1]
Skyleidoscope (1985–1987)[2] Planes were launched from the Epcot Center Ultralight Flightpark.
IllumiNations: Reflections of Earth (October 1, 1999 – September 30, 2019), previously "IllumiNations 2000: Reflections of Earth", created for the Millennium Celebration, ended on September 30, 2019 to make way for a new fireworks show called Epcot Forever.
Epcot Forever (October 1, 2019 – March 12, 2020; July 1, 2021 - September 28, 2021)
Parades
Tapestry of Nations (1999–2001), a parade created for the Millennium Celebration
Tapestry of Dreams (2001–2003), a refurbished version of Tapestry of Nations replacing the Sage of Time, the parade's original host/narrator with three Dreamseekers
Map
International Gateway
The International Gateway, located between the France and United Kingdom pavilions, serves as an alternate entrance into the park. Guests staying at the resorts near the park and guests coming from Disney's Hollywood Studios can access this gate by walkway or by boat.
Unused Pavilions
Originally, a Russian Pavilion and a Switzerland Pavilion would have been placed in World Showcase. The Russian Pavilion would use the Kremlin as its main attraction while the Swiss Pavilion would have a Matterhorn Bobsleds clone. Concepts for these pavilions still exist.
Gallery
Logos
Pavilion Icons
Pavilions Poster
Old Attractions Poster
New Attractions Poster
Concept Art
Never-Built Countries Pavilion
Trivia
References