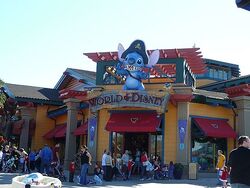 World of Disney is a chain of specialty retail stores owned and operated by the Parks and Resorts division of The Walt Disney Company. Currently there are two locations in the United States and one in Europe.
Walt Disney World
The first opened on October 2, 1996 in the Marketplace area of Disney Springs (formerly Downtown Disney) at Florida's Walt Disney World Resort. At approximately 51,000 square feet of retail space, it is said to offer the largest selection of Disney character merchandise in the world, according to the company. A 2006 renovation added a small princess-themed salon called Bibbidi Bobbidi Boutique, plus a new children's merchandise area inspired by Pirates of the Caribbean and Stitch.
Downtown Disney Anaheim
A second, slightly smaller version opened in 2001 in the Downtown Disney district of the Disneyland Resort in California.
Fifth Avenue, New York City
On October 5, 2004, a third site opened within a three-story New York City space formerly occupied by a traditional Disney Store in Manhattan on the northeast corner of Fifth Avenue and 55th Street (the physical address is 711 Fifth Avenue). Prior to the Disney changeover, the store was the flagship location for Warner Brothers' retail outlets, the Warner Bros. Studio Store, which folded in 2001 in the USA, and then internationally over the next seven years. What made the New York store different from the others is that there were character appearances every day except Tuesday and Wednesday from September through May and events each weekend in a third floor "Friendship Room" which once served as the home of a 3-D movie while the location was under Warner Brothers ownership. This store was closed on December 31, 2009, with the interior dismantled on January 4, 2010, and a Disney Store located in the former Virgin Megastore in Times Square opened in its' place in November 2010.
Goods sold at World of Disney include backpacks, books, boxers, children's apparel, clocks, collectibles, costumes, dolls, figurines, gifts, hats, jewelry, luggage, photo albums, plush toys, sleepwear, slippers, socks, souvenirs, stationery, sunglasses, sweatshirts, T-shirts, ties, videos, watches and other items branded with Disney characters and theme park icons, plus candy and natural snacks from the "Goofy's Candy Company" and "Chip N' Dale" brands.
Disneyland Resort Paris
In 2012, the World of Disney store opened at Disneyland Resort Paris. Plans for an outlet to open during the Happiest Celebration on Earth fell through as the resort's operators, Euro Disney SCA, decided to keep the expansion of the resort inside the theme parks and on attractions, but they later commissioned a new store as part of the refurbishment of Disney Village.
Gallery
External links
| | |
| --- | --- |
| | This page uses content from the English Wikipedia. The article or pieces of the original article was at World of Disney. The list of authors can be seen in the page history. As with Disney Wiki, the text of Wikipedia is available under the GNU Free Documentation License. |