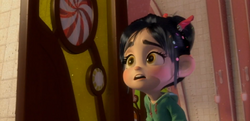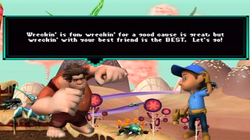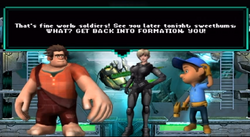 Wreck-It Ralph is a video game adaptation of the 2012 animated film of the same name.
Press Release
Get ready for classic arcade video game action with a whole new modern look and feel as Activision Publishing Inc., a wholly owned subsidiary of Activision Blizzard Inc., (Nasdaq: ATVI) and Disney Interactive today announced a collaboration to produce and distribute a Wreck-It Ralph™ video game. As a story extension to the highly anticipated upcoming blockbuster film of the same name from Walt Disney Animation Studios, the Wreck-It Ralph video game is set to inspire a whole new generation of young gamers as a classic, arcade-style side scroller featuring Ralph– the misunderstood villain of his own arcade game who sets out to prove he can be a hero too. Debuting this fall tied to the movie release, Wreck-It Ralph will bring all the fun from the big screen right into the living room for the Wii™ system from Nintendo, and the Nintendo 3DS™ and Nintendo DS™ hand-held systems.
"Wreck-It Ralph, as a brand entity, is perfectly suited for video game stardom," said David Oxford, Executive Vice President, Activision Publishing. "With the fantastic characters and creative atmosphere envisioned by Walt Disney Animation Studios, we know fans are going to love seeing their newfound favorite characters embark on an all-new side scrolling adventure." From the mind of Director Rich Moore ("The Simpsons," "Futurama"), the film chronicles the journey of Ralph, the bad guy in an arcade game who sets out to prove he can be the hero after all.
However, Ralph mistakenly reverts to his clumsy nature and "wrecks" everything once again, unleashing a deadly enemy threat onto his video game neighbors. The movie hits theaters on November 2, 2012 and features an all-star voice cast, including John C. Reilly, Sarah Silverman, Jack McBrayer and Jane Lynch. The game picks up where the movie leaves off as Ralph partners with Fix-It Felix and sets out to save their friends and home from a huge Cy-Bug invasion.
Pounding through all-new levels in the "Wreck-It Ralph" universe, like Sugar Rush, Hero's Duty, and Fix-It Felix Jr., players will have to use Ralph's destructive strength to beat by the Cy-Bugs, while switching back to Felix to repair the damage. With story campaign and two-player co-op on the Wii platform, players can switch between Ralph and Felix to solve action-packed puzzles and collect "Hero Medals". For more information, please visit www.activision.com. For any questions on the upcoming feature film, please visit www.disneyanimation.com. This game is not yet rated by the ESRB.
Synopsis
The arcade style side-scrolling game is produced in collaboration between Disney Interactive and Activision and will serve as a "story extension" to the film. Players can play as Wreck-It Ralph or Fix-It Felix, causing damage as well as repairing where necessary. Game levels are based on the locations in the film, like the Fix-It Felix Jr., Hero's Duty and Sugar Rush games. It was released in conjunction with the film's release, on October 30, 2012.
Product Description
Help Ralph earn the wreckognition he deserves before it's game over! The film may be over, but the fun's just begun! A new army of Cy-bugs threatens Mr. Litwak's arcade and it's up to Ralph to prove that there's more to him than his bad guy reputation suggests. Team up with the misunderstood Ralph and perpetual "good guy" Felix as they set out on a wild, game-hopping journey to restore peace and destroy the evil insect race that threatens their home.
Product Features
On the fly swappable characters, use Wreck-It Ralph's brawn to destroy obstacles or Fix-It Felix's magical hammer to repair them.
Unique environments—venture through four distinct backdrops based on the featured film.
Bragging rights—find and accumulate collectibles like hero medals and Easter eggs that you can display in your trophy collection.
Fun that never ends; beat the game, play it again, and discover more challenging levels under a new set of rules.
Bonus Mode: play the never-before-seen 8-bit Fix-It Felix Jr. arcade game that provided inspiration for the entire movie.
Reception
The general reviews of the game were very poor. On Amazon.com, the Wii version received a 2.5/5 rating, with reviewers criticizing the very short game time at less than two hours, a small amount of levels to go though with a total of 12, repetitive nature, and bad rewards. The overall reviews for Wreck-it Ralph on Gamestop.com for the Wii version is a 2.0, given from only two reviews, while the 3DS version is a 5.5 from four reviews, and the DS has an 8 from only one review. The review complained of repetitive gameplay and horrible graphics for a 2012 game. On IGN, overall reader reviews were 6.5 from 7 reviews.