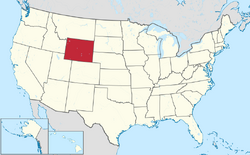 Wyoming is a state in the mountain region of the Western United States. Wyoming is the least populous and the second least densely populated of the 50 States. The western two thirds of the state is covered mostly with the mountain ranges and rangelands in the foothills of the Eastern Rocky Mountains, while the eastern third of the state is high elevation prairie known as the High Plains. Cheyenne is the capital and the most populous city of Wyoming with a population of nearly 60,000 people within its city proper.
As specified in the designating legislation for the Territory of Wyoming, Wyoming's borders are lines of latitude, 41°N and 45°N, and longitude, 104°3'W and 111°3'W (27° W and 34° W of the Washington Meridian), making the shape of the state a latitude-longitude quadrangle. Wyoming is one of only three states (along with Colorado and Utah) to have borders along only straight latitudinal and longitudinal lines, rather than being defined by natural landmarks. Due to surveying inaccuracies during the 19th century, Wyoming's legal border deviates from the true latitude and longitude lines by up to half of a mile (0.8 kilometer) in some spots, especially in the mountainous region along the 45th parallel. Wyoming is bordered on the north by Montana, on the east by South Dakota and Nebraska, on the south by Colorado, on the southwest by Utah, and on the west by Idaho. It is the ninth largest state in the United States in total area, containing 97,818 square miles (253,350 square kilometers) and is made up of 23 counties. From the north border to the south border it is 276 miles (444 kilometers); and from the east to the west border is 365 miles (587 kilometers) at its south end and 342 miles (550 kilometers) at the north end.
Films and Shows
Cities and Locations
Yellowstone National Park
Chugwater
Attractions
Actors and Crew born in Wyoming
Gallery
Community content is available under
CC-BY-SA
unless otherwise noted.