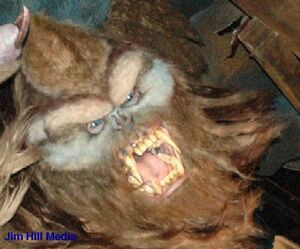 The Yeti
, or "
Abominable Snowman
", is a mythical creature said to live in the Himalayas of Central Asia. It is a relative of the North American Bigfoot. It has appeared in a little bit of Disney media.
A yeti appears on the Matterhorn Bobsleds in Fantasyland at Disneyland in Anaheim, California. It's name is Harold and it exists as three Audio-Animatronic figures to roar at the riders. One can be seen on both tracks, while the other two can be seen on their respective tracks. In addition to the figures, each track has its own set of glowing red eyes that belong to Harold.
The ride queue to the ride at Disney's Animal Kingdom winds through a recreation of a small Asian village with a museum dedicated to the Yeti. After the train (rollercoaster) sets off, it climbs up the mountain and at the top, it makes a turn to find the tracks ahead have been torn up by the Yeti. Then the train reverses into a cave (via powerful switches). After going a little ways, the riders see the Yeti's shadow as it starts to tear up more tracks. Soon another set of switches activate and the Yeti's shadow dissapears as the train goes down an 80 ft drop. After the train makes a turn at the bottom of the drop, it enters a cave, where riders here the Yeti's roar. After making two loops outside, the train is then lifted back into the mountain for the last time where an animatronic Yeti swipes at the riders. After this, the ride is over.
The vocal effects for the Yeti were provided by Fred Tatasciore.
In this book, the Yeti is in fact a prison for Chernabog who is being rescued by Maleficent whilst Finn Whitman, Amanda and Jessica Lockhart tried to stop them from escaping.
Phineas and Ferb
The Yeti also appears in the 2009 Christmas vacation special when Bowling for Soup sings the line "Or giving a Yeti a shower..." in the song Winter Vacation.
Gallery