"Yin-Yang" is the ninth episode of Lilo & Stitch: The Series. It aired on October 17, 2003.
Plot
Two experiments activate at the same time while Lilo and Stitch are arguing. Lilo and Stitch insist that they each can catch an experiment without the other. Meanwhile, Jumba and Pleakley make a bet to see which one will capture an experiment first, and Gantu forces 625 to help him catch them both. The race is on because Jumba theorizes that the world will be doomed if the two elementally opposing experiments touch each other, they will destroy Earth. Eventually, Lilo and Stitch team up together again and help each other capture the experiments each was after using the "tools" that were given to them by Jumba and Pleakley. Jumba and Pleakley's bet ends in a tie resulting in both of them paying the bet: Dancing the Glocknar for 1,000 hours. Lilo later names the two experiments Yin and Yang and repurposes them to create a new island.
Goof
In one scene, Reuben is shown with four toes on each foot, even though he normally has only three toes per foot.
Trivia
Moral: We accomplish more working together than working against each other.
Both of their names are derived from the concept of yin and yang.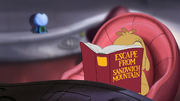 Experiments mentioned
International premieres
References
↑ L&S Says Mahalo. TV Tome (December 13, 2004). Archived from the original on March 19, 2016. Retrieved on May 27, 2018. "Favorite episode: "Yinyang." [''sic''] Two cool experiments, a good Lilo and Stitch story, and the episode's theme all work really well together. Other faves: "Angel" and "Bonnie and Clyde.""