"Yuppy Ducks" is the eighty-eighth episode of DuckTales.
Synopsis
Huey, Dewey, Louie, and Bubba go to an ice cream shop. Despite their suggestion to the owner to serve different flavors, he refuses to do so. Even when they ask Scrooge for help on running their own malt shop, he tells them they're too young. As they leave, Scrooge begins to itch and has to see a doctor. He finds out he has "loot lice" that affects people with money bins which means he must be quarantined. At the hospital, he is put inside an isolation tank and must stay away from money until the lice is completely gone. As if his misfortune isn't bad enough, he finds out Burger Beagle is in the same room with him. Ma Beagle and the Beagle Boys show up to visit Burger and then leave to rob Scrooge of his money for good. Meanwhile, Huey, Dewey, Louie and Bubba are given the opportunity to start their own business deals, beginning with milkshakes at the ice cream shop. At a car shop, they're not too impressed with the prototypes they see so they come up with a special design that looks like a rocket. Back at the hospital, Ma Beagle and the Beagle Boys arrive again to pick up Burger and leave but not before gloating at Scrooge who screams to be let out.
The boys decide to continue with business deals by suggesting AM/FM earrings for women and adding cartoons to McDuck Educational TV. Before they can head out, they spot Ma Beagle and the Beagle Boys trying to infiltrate Scrooge's money bin. Thinking the coast is clear, the Beagles enter only to find every trap set including the trap door. When two of the suggested creations prove to be a problem, all the unhappy business people demand the boys fork over some money or McDuck Enterprises will be ruined. Since the piggy bank isn't enough, there's only one choice: the money from Scrooge's money bin. Huey, Dewey, and Louie try different methods to re-fill the bin but can only earn coins which aren't enough. Even though they're glad to see Scrooge again, the boys try to keep him from going to the empty bin but to no avail. Scrooge dives in, only to crash land on the floor and is horrified to find his money gone. Once she and the Beagle Boys get inside the bin to steal that money again, Ma does the same thing and gets hurt as well. Both she and Scrooge are sent back to the hospital to recover.
The boys have second thoughts about their actions and then find out they broke the labor law. At McDuck Enterprises, they state that the business deals were "a big no-no". Once those deals are done for, all the money is returned to Scrooge's money bin. After that, the boys head to the hospital to check on Scrooge. Glad to see his money again, Scrooge takes a dive in his bin but points out that he's missing a nickel which Louie drops in the bin. The boys plan to celebrate with milkshakes.
Cast
Notes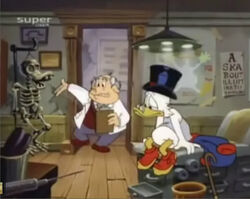 In one scene of this episode, there is an eye chart in Dr. Von Swine's clinic that reads "ASK ABOUT ILLUMINATI! THUG BOYS" (as shown in the image on the right). It's unknown why the animators decided to have the eye chart say that, but someone must have caught it because, a few seconds later, the eye chart is amended to instead read as the more nonsensical "ASK A ILLUMINTAM TWG BOYS", and amended again later still to read "ASK ABOUT ILLAUMINAT!! TAUG BOYS".
Goof: There is a single shot of Burger in bed while is he talking with Scrooge in which the bite is out of the RIGHT side (his right) of his number plate, as opposed to his left, as is the case in every other shot in the episode and throughout the series.
This is the only DuckTales episodes (and, to date, the only animated Disney production) to mention Calisota, the name of the fictional state Duckburg is located in.