"Zap One" is the third double-length special episode and the thirty-seventh episode of the first season of Penn Zero: Part-Time Hero. It premiered on September 30, 2015.
Synopsis
Penn's origin story is revealed in a flashback to his first day of high school when he learns his parents are part-time heroes instead of insurance salespeople.
Plot
Trivia
This is the third "tent pole" of four important double-length episodes that "dig a bit deeper and tell a bigger story," of the first season, the previous two being "North Pole Down" and "The Ripple Effect".
This episode not only serves as a flashback episode, but also serves as the origin episode as it shows the team's first mission, how they first met, and why Penn's parents are trapped in the Most Dangerous World Imaginable.
In the flashback, many elements of the show are explained or revealed:

Penn, Sashi, and Boone's first mission was in Knight World.
Penn didn't know that his parents were part-time heroes, believing they were life insurance sellers, because his parents wanted him to grow up as a normal kid.
Penn initially wore a green sweater, before getting his trademark shirt as a gift from his parents, with fake mesh chain mail added in as accident.
Rippen is responsible for trapping Penn's parents in the Most Dangerous World Imaginable.
Penn and Boone were best friends before starting their part-time job, while Sashi was a bully and didn't initially think highly of the duo.
Sashi and Boone already knew about the part-time hero business and Penn's parents being part-time heroes before he did.
Sashi had trained to be a part-time sidekick for 13 years.

This Episode features two songs, both sung by Penn Zero. Today is the Day and My Name is Penn Zero, this last song also features Sashi, Boone and Rippen singing small parts.
As Penn walking at the hallway for fist day at school share many parallels with Randy Cunningham in "Randy Cunningham: 9th Grade Ninja" episode Viva El Nomicon.
Gallery
v - e - d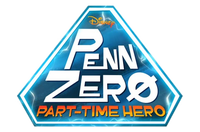 Locations
Middleburg • Middleburg Central High • The Odyssey • Fish Stick on a Stick • North Pole • Knight World • Superhero World • Arabian World • Plush Toy World • Clown World • Dinosaur Cowboy World • Cereal World • Old English World • Giant Monster World • Zombie World • Space World • Ocean World • Color World • Musical Fairy Tale World • Caveman Spy World • Future Barbarian World • Ultrahyperball World • Demon World • Alien World • Galaxy World • Temple World • Dragon World • Gothic Mystery World • Plant World • Animal Barbarian World • Toy World • Outer Space Court World • Robot World • Pirate World • Fairymania World • Steampunk World • Ball World • Ghost World • Rock, Paper, Scissor World • Beast World • Anime World • Sitcom World • Nothingness • Most Dangerous World Imaginable • Least Dangerous World Imaginable
Objects
Multi-Universe Hologram Uplink • Multi-Universe Transprojector • Pigoilet • The QPC Unit • Vortex Tops • Specs
Community content is available under
CC-BY-SA
unless otherwise noted.