Zenon Kar
is the main character of the
Zenon
trilogy. She is a teenage girl who lives with her family on a space station orbiting Earth. Zenon was born in 2036.
Appearances
After getting into trouble with the space station's commander, Edward Plank, Zenon's parents punish her by grounding her to Earth to live with her Aunt Judy, who is afraid of space. On Earth, Zenon experiences trouble fitting in with other kids, but Greg had his eye on her. Zenon considered her space-station stories and slang weird to be avoided. Likewise, Zenon considers the children at her school woefully out of touch with pop culture. To assuage her homesickness, Zenon often communicates with her best friend on the space station, Nebula Wade, via a video phone tablet. Eventually, Zenon makes friends on earth with two boys, Andrew and Greg. Along the way, the kids learn to be more accepting of one another and to look past first impressions.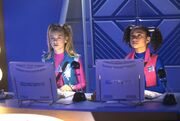 During her time grounded on Earth, Zenon uncovers a plot masterminded by station bigwig Parker Wyndham to crash the computers of her space station home and thus the station itself, which will put everyone on it in danger. When Zenon tries to warn her parents of the danger, Commander Plank, who sees all children as troublemakers, convinces Zenon's parents not to listen to her. He believes that her story is only a ploy to get her back onto the space station so that she can attend an upcoming concert by her idol Proto Zoa, who is about to perform the world's first space concert. With the help of her friends Andrew and Greg, Zenon must find a way to save the space station and her family. Andrew creates a computer virus to counteract that deployed by Wyndham, and it is then up to Zenonto to get the disk to the station. Hoping to somehow sneak onto a space launch, Zenon goes to the launch yard, where Proto Zoa and his band are about to depart for their concert. Giving her new friends a farewell and Greg, their first "unawkward" kiss. In a lucky break, Proto Zoa recognizes Zenon from a "Dance with Proto Zoa" contest and takes her with his band, Mr. Wyndham, his assistant Lutz, and Aunt Judy on the launch to the station. Upon arrival, Commander Plank is shocked to see Zenon on the station but is smitten with Aunt Judy. After hearing Zenon's story, the commander still has trouble believing her, especially when Wyndham accuses her of sabotaging the station. Against all odds, Zenon manages to use the computer virus program that Andrew created to save the space station, and Wyndham and Lutz get arrested. Afterward, everyone enjoys the Microbe concert. Zenon on her tablet waves to Greg goodbye.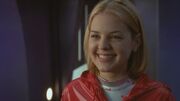 Two years later Zenon shows her friend Nebula how to play a new game and how to play it she inadvertently empties out Commander Planks Office and is assigned work detail in the Alien Patrol lab. Worse the space station is now under command of the military and General Hammond is assigned to command the station. Commander Plank, very furious, comes out of his office and stops Zenon. Even worse, he assigns Zenon to look after his daughter who turns out to be her old nemesis, Margie, who's demanding and threatens to have her dad kick Zenon and her family off the space station if Zenon doesn't obey her.
Zenon then discovers that her space station is being decommissioned due to damage from the plot by Wyndum and Lutz and sneaks down to Earth to try and stop it after getting a message from aliens that seem to want to meet with Proto Zoa, but Margie wants to go too and sneaks down to Earth as well, but making it look like Zenon forced her to go with her. With the help of Aunt Judy, the girls track down Proto Zoa who has gone into hiding due to a dry spell and convince him to join them. With Margie, Aunt Judy, Nebula, Orion the Alien Patrol lab guy, Proto Zoa, and her mother, Zenon goes to meet with the aliens near the moon. However, their ship runs out of fuel and they nearly crash to their deaths on the moon, but the aliens show up and rescue them. The aliens turn out to be friendly and communicating with Zenon telepathically, reveal that they have been lost in space for three years and need the ship's navigation charts to get home, thinking it impolite to just take them.
After getting the charts, they then tow the ship back to the space station where General Hammond refuses to relent, saying the space station is too badly damaged and must be destroyed. Margie stands up to him for once, but it isn't enough until the aliens return and repair the space station as a thank-you gift for helping them. With the space station saved, Commander Plank and General Hammond are assigned to command it together and Plank and Aunt Judy get married at a wedding that Proto Zoa plays at, dedicating his new song to Zenon having been revitalized by the whole experience. It's also realized that the aliens were actually trying to communicate with Zenon, not Proto Zoa, and were using the transmission of his old concert to do so. Margie convinces her father to let her stay and she and Zenon become friends while Zenon gets a possible love interest in Orion.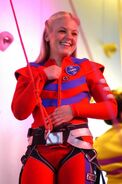 Zenon Kar is now 18 and competing to win the Galactic Teen Supreme contest and celebrate at the Moonstock Festival. Zenon wants to beat competitor Bronley Hale. She also reunites with Moon preservation activist Sage Borealis. Sage is desperate to keep the Moon from being colonized and exploited and wants Zenon's help.
In the end, Zenon, Sage, Dasha and her friends Margie, Cassie, and Bronley team up to save the day. They evacuate everyone in Protozoa's tour bus and try to remove the Moon Dome, with each taking a hover pod. However, the dome is too overweight to be lifted, until Commander Plank and Aunt Judy show up to help the group and were looking for Dasha. They're able to help lift the dome, which they let drift off into space. Selena then destroys the rest of the base and waves goodbye as the friends return to Earth. The wild weather caused by Selena has stopped. In the end, Sage and Zenon kiss, and Protozoa's band Microbe and the new hit band, Cosmic Blush, hold a concert together.
Personality
Zenon is a very outgoing person. Her outgoing and adventurous nature often lands her in trouble. She is always looking to help people. Zenon often uses the term "zetus lapetus" as an expression of exclamation.
Trivia
Zenon first appeared in the 1996 children's science fiction picture book Zenon: Girl of the 21st Century, to which the films were based on.
It is revealed that she is born in 2036.
Gallery
Community content is available under
CC-BY-SA
unless otherwise noted.