"A symphony of death, oh my! That's my lullaby!"
―Zira singing "My Lullaby"

Zira is the main antagonist of the 1998 Disney direct-to-video film, The Lion King II: Simba's Pride. She was the mother of Kovu, Nuka, and Vitani.
Background
Personality
Zira is opportunistic, cynical, and imposing, letting her emotions control her constantly, which usually leads to her launching into venomous rants and invective. She seems to be patient, as she was willing to wait until Kovu became a young adult before putting her plans into motion. However, she generally shows little affection even for her children unless they are of use to her, and is willing to kill them if they will not follow her path of vengeance. However, despite her strengths, she suffers the same downfall as Scar; her hatred blinds her, thus destroys her in the end. Zira does seem to care for her family and her Pride, despite her vindictive nature, showing depression when Nuka dies, and pride when Nuka and Vitani say or do things that appeal to her plan. Although Zira hates Simba completely, her interactions with the rest of the pride are comparatively neutral, which is especially evident in her introduction: When Simba and Zira encounter each other when the latter attempts to ambush Kiara, after identifying Simba in a tone that obviously implies that she is excited at the opportunity to exact revenge, she sees the rest of the pride, Timon and Pumbaa arrive with Simba and identifies Nala curtly.
Shortly before the end of The Lion King, Zira was Scar's most devoted of his followers, revering him with a fanatic-worship and praising his very name. However, after Simba returned, Zira was exiled along with her followers for their continued loyalty to Scar. After that, Zira holds Simba responsible for Scar's death (unaware or ignoring the true cause of Scar's death), and plots to both avenge Scar and take back the throne, using Kovu as a puppet ruler. Zira and her followers became known as Outsiders.
Apart from her total devotion to Scar and her desire to avenge him, Zira also shows a deep contempt for other animals and especially for hyenas. This is especially seen in the song "Lions Over All" where she exclaims the superiority of lions.
Physical appearance
She is a lioness with dark coloration. Her fur is grayish-tan with a cream muzzle, underbelly, and paws. She has red eyes, black eyebrows, dark brown upper eye patches, and eyelids and white under patches, a black, pointy triangular nose, one notched ear (the history of which is never revealed), and a dark stripe down the center of her head.
Appearances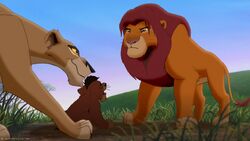 Zira was the mother of Nuka, Vitani, and Kovu and the leader of Scar's followers The Outsiders. After Simba deposed his uncle and banished the Outsiders to the Outlands, Zira vowed revenge for Scar, accusing Simba for the King's murder. Her youngest son, Kovu, was Scar's chosen heir (despite not being related to Scar), and Zira dreams that he could one day kill and usurp Simba. Zira first appears when Kovu eventually wanders off into the Pride Lands (avoiding Nuka's uncaring eye; Vitani implies this happens often) and meets Kiara, Simba's daughter. She witnesses the playful interaction between the two cubs and growls in anger after Kiara reveals her identity to Kovu. After Simba shows up and roars at Kovu, Zira puts herself protectively in front of Kovu and makes bitter conversation with Simba (and to Nala, Timon, Pumbaa, and the lionesses who followed). In a mocking gesture of Simba's demand she pays the penalty for trespassing, she nudges Kovu forward as Simba's "pound of flesh", knowing he would not bring himself to kill the cub due to his better nature. After the lion tells them to leave, Zira approaches him and darkly tells him their business has just begun and gives Kiara a knowingly malicious glare; despite this, Zira walks off with her son in her mouth and with Simba unscathed.
After returning home, Zira proceeds to let out her wrath on Nuka and Kovu, sardonically mocking the idea that Kovu tried to make friends with Kiara so he could get him and his family close to Simba (though this was not the reality of the situation). It is only when Zira announces these words that she realizes it may very well be a good idea. After praising Kovu for giving her the catalyst to her revenge, she coos the cub to sleep and then proceeds to outline her epic dreams.
Zira then trains Kovu as a killer with hate in his heart for Simba. When he becomes a teenager, she engineers a plan to start a fire so that Kovu could save Kiara's life and get close to Simba, so as to gain his trust and eventually kill him.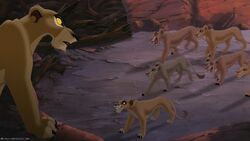 She observes Kovu with Nuka from a distance, pleased with the progress of the plan, and that everything was going according to her scheme. However, Vitani reports that Kovu had the chance to murder Simba but didn't take it. Zira is determined to continue with her plan, though, and she quickly devises a plan to corner Simba and Kovu in a heavily eroded, dusty part of the Pride Lands, purposefully leading Simba to believe Kovu was bent on killing him. However, when Kovu goes against his mother's wishes to kill Simba, Nuka tries to carry it out instead to gain his mother's attention and approval. However, he ends up being crushed by the falling logs and dying, and ironically, it was through his death that he finally gained the attention and affection of his mother. Zira deeply mourns her son's death, while silently asking Scar to watch over Nuka. Her grief turns to pure wrath and she slashes Kovu across the eye, giving him a wound identical to Scar. After her initial shock at this, Zira scolds Kovu for causing the death of Nuka by not lifting a paw to kill Simba and therefore having a part in Nuka's demise.
Zira, furious at Simba's "corruption" of Kovu and Nuka's death, then declares open war on Simba, and launches an attack on Pride Rock, using the opportunity of Simba's injured state from being attacked by the Outlanders. Zira arrives at the edge of Pride Rock with her army, rejecting Simba's last chance offer to return home and avert the confrontation, and soon an intense battle begins between the two factions. Before Zira and Simba can face off in what will inevitably be a blood-soaked skirmish, Kovu and Kiara intervene, stopping their respective parents from killing the other, to which she and Simba tell them to step aside. Kiara is able to make Simba stop the battle by telling him that their two factions, despite their ethical scale and deep hate they have for one another, are the same.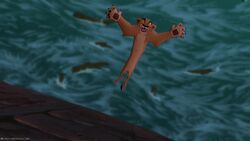 Vitani sees the truth of Kiara's words and joins Simba, convincing the other Outsiders that enough is enough, though Zira tells her daughter that she will die as well if she won't fight. These words visibly shock and disgust her lionesses, who, as a result, leave her and join Simba, much to Zira's shock and anger. Simba urges Zira to let go of the past, but she refuses and leaps at him, still intent on killing him to avenge Scar. Kiara stops her, causing the two lionesses to go over the cliff. At this point, the dam breaks, and the river begins to flow rapidly. 
Kiara tries to reach out to help her, and Zira is shown trying to choose between death or accepting Kiara's help. However, Zira's pride and hate will not allow her to be rescued by her enemy's daughter, and she rejects Kiara's help, only to finally fall off the cliff into the water and get washed away with the current, with only her paw reaching out of the surface limply. Having witnessed this, Kovu then sighs in deep pain at her demise.
Despite Zira's death, her (as well as Scar's) original plan to have Kovu as the new King of the Pride Lands is most likely to succeed, but not for her own satisfaction as Kovu wants to rule under the principles of the Circle of Life, which inspired a touched Simba to accept Kovu as his son-in-law and future successor.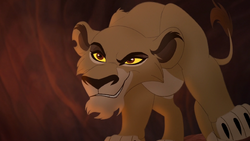 Zira, along with her children and pride, guest star in The Lion Guard episode "Lions of the Outlands". Because of Suzanne Pleshette's passing in 2008, Zira was voiced by Nika Futterman.
Zira's backstory is elaborated on by Rafiki in the episode; when Scar was defeated, she tried to explain to Simba that he couldn't be king, as Scar chose Kovu to succeed him. Simba tried to reason that his uncle was never the true king but Zira would not listen to reason and fought him in battle. Simba defeated her and forced Zira and her entire family to leave the Pride Lands. During her exile, sometime between hatching the plot to use Kovu to get to Simba through Kiara and Kovu's coming of age, she and her pride stole the territory of a group of hyenas led by Jasiri living in the Outlands. Zira also tried to convince Simba's son and leader of the Lion Guard Kion to be her apprentice and join her side to make lions reach the top of the Pride Lands in order to prove them superior. She also knew something that Kion did not know about the Roar of the Elders; that he could use the Roar on clouds to create small amounts of rain to make new watering holes (something she learned from Scar himself). She only reveals her true vicious colors after Kion denounces her beliefs of Scar being the true king, and she reveals her angry spite and viciousness.
Zira sets a trap for Kion, leaving him surrounded by Outsiders, and giving him the choice to be with them or against them, saying he can't use the Roar on his own kind, lest he loses his power as Scar had. Zira then becomes furious when Kion dares to say that Scar was never the true king of the Pride Lands and almost lets her lionesses attack him but quickly regains her composure and gives Kion some more time to make up his mind. Zira then tries to trick Jasiri into thinking that Kion has sided with the Outsiders. When the rest of the Lion Guard and Jasiri arrive and rescue him, Kion remembers why his great-uncle really lost the roar. Zira then realizes this too late (though she refuses to believe it) as she is blasted away along with Nuka, Vitani, and the other Outsiders (with the exception of Kovu, who leaves at his own accord), to a lair in the termite mounds of the Outlands which is similar to the one depicted in Simba's Pride.
In Journey to the Pride Lands, Jasiri and the reformed Janja head to the Tree of Life to alert the Lion Guard of Zira's return to the Outlands, prompting Kion to return home to stop the threat.
In the finale, as well as the Simba's Pride sequel,"Return to the Pride Lands", the Lion Guard return home to find out that Vitani and Kovu have joined Simba's pride and that Zira and Nuka are gone. The events of the previous film is later explained in a cave painting that states that during the Lion Guard's stay at the Tree of Life, Zira attacked the Pride Lands, only for her pride to betray her in the end, resulting in her death.
Kion and his Lion Guard face Vitani to see which of their Lion Guards would protect the Pride Lands. In the end, while Kovu was named Simba's successor to becoming King with Kiara as his Queen, Vitani is named the new leader of the Lion Guard, entrusted with the Roar of the Elders, while Kion and his Lion Guard return to defend the Tree of Life with the Night Pride. Thus, Zira's two surviving children now carried important roles in the Pride Lands with Kovu as heir and Vitani as head of the Lion Guard.
Video games
Zira appears in 2000 video game The Lion King: Simba's Mighty Adventure as one of the two bosses (the other one being Scar) where she battles Simba with a roar that would cause rocks to fall towards Simba which he has to dodge before finally defeating her.
Printed Media
Zira appears in the seventh book the insider as the same as her film counterpart she is near-religiously loyal to Scar. She and other OT minions were after the Keepers, who used they DHI states to launch earthquake debris at her.
Relationships
Family
Kovu is Zira's youngest son. Throughout Kovu's childhood, Zira raised him to follow in Scar's footprints. Zira wants Kovu to take Scar's place as King of the Pride Lands. After Nuka's death, Zira gives Kovu a scar just like his surrogate father. Zira becomes enraged that Kovu betrayed them and decides to attack the Pridelanders. Kovu and Kiara stop her from trying to conquer the Pride Lands from falling during a feuding battle between; however, she refuses to rejoice just as all the Outlanders stop attacking. Zira, however, is defeated when Kiara attempts to let her join Simba's Pride to which she refuses to rejoice as she falls to her death.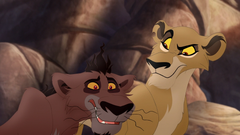 Nuka is Zira's oldest son. Nuka tries to make her proud of him; however, he doesn't like it how Kovu was the chosen one and not him. Once Simba is in the Outlands, Nuka tries to destroy him; however, he gets crushed by a log. He said that he tried to help and passes away. Zira is upset that Nuka has completed his journey through the Circle of Life.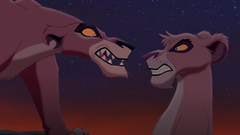 Vitani is Zira's daughter. Vitani cared a lot about her family. Vitani tries to help Kovu complete Zira's mission. When Kiara says that "we are one," Vitani joins her and her Pride. Zira feels betrayed by this and threatens to kill her as well, leading to the rest of her lionesses to side with Vitani and join Simba's pride as Zira died by falling into a river and crushed by a log, ending the feud.
Zira hates Kiara since she's Simba's daughter. Out of all Simba's family, Zira seemed to underestimate Kiara the most, having virtually no respect for her. Unlike with her brother Kion, Zira never once called Kiara by name, only referring to her as "the daughter", showing her utter lack of respect and underestimation of the princess. Realizing she could use the friendship between Kiara and her son Kovu, Zira came up with a plan for Kovu to save her from a fire and be welcomed into the Pride Lands, only to take down Simba and his place as king.
However, Kovu falls in love with Kiara and changes sides. During the final battle, Zira's plans are permanently thwarted by Kiara when she convinces Simba to end the feud between the prides and accept the Outsiders back into his pride. This causes Vitani and eventually the other Outsiders to abandon Zira and join Simba. Zira, however, refused to let go of her hate, causing Kiara to be visibly saddened, wanting the mother of the one she loved to join and live amongst her pride once again. Zira attempts to destroy Simba but Kiara pushes her away. The two fall down a cliff with Kiara landing safely on a ledge and Zira hanging for her life. Kiara tries to save her, but Zira angrily refuses Kiara's help to overcome with hatred for Simba to accept help from his daughter, despite her offers to be pulled back up. In the end. Zira's rejection of Kiara's aid results in her falling into a river and drowning. Kiara was horrified when Zira died and was filled with sadness and regret over not being able to save her. This regret still exists, even days after her demise, as Kiara is shown to be sympathetic to Kovu and Vitani over the loss of their mother, possibly blaming herself for failing to rescue her. Not long after she died, Kiara married Kovu thus making Zira her posthumous mother-in-law.
Friends
After Scar took over the Pride Lands and became king, Zira became his most loyal follower, honoring him to the point of fanaticism and the worship of his very name.Her loyalty to Scar was so great that she still considered him her king even in death. After Scar died, Zira was determined to kill Simba in order to avenge his death. Her loyalty to Scar is even far greater than her love for her family, as she will not hesitate to kill her own children if they betray Scar's memory. Overall, Scar was the person Zira loved the most. While it is unknown if Scar had any real regard for Zira there are some instances that imply he did indeed genuinely appreciate her loyalty.
In the Lion Guard episode, "Lions of the Outlands", Zira told Kion that Scar taught her all about the Roar of the Elders, revealing that he did trust Zira. He even chose her son Kovu to follow in his footsteps and take his place as king of the Pride Lands, despite the lack of relation between the two. Some scenes even indicate that Scar and Zira were romantically involved or at the very least she held feelings for him. In a deleted scene of Simba's Pride, Zira claims that Scar made her his queen, whilst in Lions of the Outlands, a cave painting shows Zira and Scar ruling the Pride Lands together, with Zira in that episode later saying that Scar and she were very "close."
Enemies
Zira hates Simba for overthrowing and supposedly killing Scar (unaware or not caring that the hyenas were his real killers). Zira still thinks that Scar should have been the king of the Pride Lands instead of Simba. When she protested Simba's rule. he explained to her that Scar was never the rightful king. This only angered Zira more, causing her to attack Simba in an attempt to avenge Scar. Simba was able to defeat her easily, and in anger over her defiance and consumed with hatred for Scar, he banished Zira, her children, and all the other lions who respected Scar to the Outlands, forever. Since then Simba and Zira shared an intense and unrelenting hatred for one another. For years, Zira plotted against Simba dreaming of the day she would have her revenge on him and avenge Scar. She eventually decided to use the friendship between her son Kovu and Simba's daughter Kiara as a way for Kovu to infiltrate the Pride Lands and assassinate Simba. However, this plan ended in failure when Kovu fell in love with Kiara instead, and thus abandoned his mission. This resulted in her attempting to kill Simba herself, with her and her pride attacking him and framing Kovu for the ambush. However, not only did Simba manage to escape, but Zira's oldest son Nuka ended up dying in a failed attempt to finish the king of himself. Nuka's death only intensified Zira's hatred for Simba and thus she leads an attack on the Pride Lands deciding to wage war while Simba was injured. During the battle between the prides she and Simba faced off and were about to engage in a bloody battle until the intervention of Kiara and Kovu. Kiara managed to convince her father to end the fighting and accept the Outsiders back into his pride, while Zira was too overcome with her hatred for him to accept any compromise, even after the rest of her pride, including her own daughter Vitani, abandoned her she still hung on to her hatred. Simba tried reasoning with Zira, forgiving her despite their hateful past, and urged her to let go of the past as he had, allowing her to rejoin his pride and live amongst them again. Zira, however, still refused, as she was too consumed with hate and made one last attempt on Simba's life only to be thwarted by Kiara, ultimately resulting in her death. In the end, it was her hatred of Simba that caused her destruction.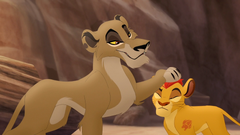 Zira hates Kion since he's the son of Simba. He was also the Leader of the Lion Guard. Kion asks why Zira has taken over Jasiri's Watering Hole. In the song "Lions Over All", they both explain to one another how lions should rule. Zira asks Kion if he's on the side of hyenas or lions. Kion says that he's on the side of the Circle of Life and the animals who respect it, Zira traps him until he uses the Roar of the Elders on her. In "Journey to the Pride Lands" after hearing that Zira is back to take over Simba's place, Kion decides to go home and stop her. In "Return to the Pride Lands", it is later found out that Zira has completed her journey through the Circle of Life, leaving Kovu and Vitani behind to fulfill her dying wish, but not as she intended as Kion names Vitani the new leader of the Lion Guard while Kovu becomes Simba's heir.
Zira hates Jasiri's Clan and took over their family's watering hole.
Zira hates Kion's friends and thinks that his Lion Guard is pathetic since the only lion on their team is Kion.
Zira hates Timon and Pumbaa. Timon even yelled at Zira to stay out of the Pride Lands due to her betraying the Pride Lands.
Zira hates Nala since she's Simba's mate, although her enmity towards Nala is rather curt and dismissive compared to her hate for Simba.
Because Zira hates hyenas, she makes no distinction between Janja's clan As such, Janja and his clan are scared of Zira. Janja and Jasiri went to go look for Kion to get him home and stop her.
Gallery
Trivia
It was originally planned for Zira to deliberately let go of the cliff rather than simply reject Kiara's help, but her fall was instead depicted as her simply slipping while rejecting Kiara's aid, as it was felt that the villain committing suicide was too 'adult' for a Disney movie. However, although this concept was cut, Zira's death in the finished version of the film is still implied to be a suicide, or just an accident, as if you look closely, you can see that she's smiling, though this could be just her muzzle. Moreover, as she's gradually losing her grip, in the final version is visible how her position changes, because at first is seen how her fangs are about to reach the lower edge of the cliff and then, just before she falls, she is in a much higher position.
When Zira and Simba encounter each other onscreen for the first time, Zira's line "If you need your pound of flesh..." as she pushes Kovu forward is actually a reference to the Shakespearian play "The Merchant of Venice", even though "Simba's Pride" is based on "Romeo and Juliet".
During early production, the producers had originally named Zira "Bianca", but this was not "Swahillian" enough, and could easily be confused with Miss Bianca, in which her name was changed to Zira.
When Zira blames Kovu for the death of Nuka, her reasoning seems somewhat ironic for someone who had a high opinion of Scar.

She told Kovu that he betrayed his pride, which is exactly what Scar did when he allowed the hyenas to invade.
She also told him that he "killed his own brother", which, again, is exactly what Scar did. Also, Kovu hardly can be held accountable for this seeing as Nuka fell, and had nothing to do with him.
This scene is vaguely similar to when Scar accused Simba of murdering his father. But while Scar was simply trying to discourage Simba, Zira truly believed what she said was true.

In early production, Zira (then-named Bianca) was originally going to be Scar's mate and the mother of his cub Nunka (who would later become Kovu), who would seduce Aisha (Kiara's original name). Because this would be incest, due to Nunka and Aisha being first cousins once removed, the relationship was obscured to make Zira "a follower" of Scar, and Nunka became Kovu and was instead Scar's adopted son. Some media suggests that Zira at best, was romantically attracted to Scar.
When Kovu's training is being reviewed, the notch in Zira's ear switches sideways to the other ear.
In some Lion King 2: Simba's Pride reading books, her eyes are mistakenly colored dark blue or dark green.
Kovu eventually will become the Pride Land's King, meaning Zira actually succeeded with her plan to fulfill Scar's dying wish, but not to avenge his death by killing Simba. It also fulfills Mufasa's wish and hopes that both the Pridelanders and Outsiders got rejoined through Kovu and Kiara, while presumably taking into account Scar's dying wish (despite his murder of him).
Zira's role as a follower to Scar contradicts the events of the first film, where all the lionesses present at the time were followers of Mufasa and Simba and had fought beside Simba against Scar. It was later revealed in The Lion Guard that she and Scar were very close and that he shared his knowledge of the Roar of the Elders with her, which perfectly supports the contradiction. However, it's possible that she and the Outsider lionesses were still away hunting and just returned after Simba reclaimed the throne.
Zira, McLeach, Sa'Luk, and Forte are the only Disney sequel villains to actually die. Jafar does not count because he originally appeared in the first film as its main antagonist.
Bette Midler and Helen Mirren were considered for the role of Zira before the late Suzanne Pleshette was cast.
Her name means "hatred" in Swahili.
She has no mark on her head in The Lion Guard, except in Rafiki's painting.
Community content is available under
CC-BY-SA
unless otherwise noted.