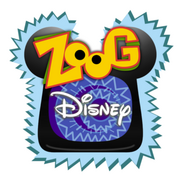 Zoog Disney is a defunct afternoon block that aired on Disney Channel from 1998 to 2002 aimed mainly at the preteen market. The block was hosted by robot characters called "Zoogs", and featured original shows (like Lizzie McGuire and Even Stevens), music videos and content submitted by viewers on the website, such as high scores for their online games.
The Zoogs were designed by David Fremont of Colossal Pictures, as part of the revamp of Disney Channel in 1997 under Geraldine Laybourne's direction; at one point, there were potential plans for an entire show centered around the Zoogs, but this never came to fruition. Fremont was dismayed to see the Zoogs' redesign, which he was not involved in.[1]
Characters
Dotcom
Zoogina
Browser
Gatherer
MZ
Twitch
Joe Zoog
In other media
Disney.com had a website called "Zeether", while Disney Interactive released a PC game series called "Zoog Genius". Figurines of Joe Zoog, Dotcom, Twitch and Browser (in their later designs) were also released.
Gallery
References