Zuri is a character who appears in the 2015 TV film The Lion Guard: Return of the Roar and its 2016 follow-up series The Lion Guard.
She is a lioness cub who is part of the Pridelander pride led by King Simba and Queen Nala. She, along with Tiifu, serves as a friend of Simba and Nala's daughter Kiara.
Background
Personality
Zuri is sassy, easily upset, dramatic, and sensitive. Despite being a predator, she doesn't like to hunt, preferring others to hunt for her. She has a considerably poor memory. Zuri has also displayed a complementary and appreciative side after being saved by Kion. However, she also was snobby and ungrateful when, in an alternate ending of the comic, "The Day of the Crocodiles", Kion saved her but got mud all over her fur.
Strangely enough, Zuri doesn't like the taste of gazelle, which she considers being "hyena food".
Role in the series
Zuri first appears when she gets her claws stuck in a log (as she was sharpening them, which she did to every tree she passed to keep them shiny), but is freed by Timon and Pumbaa, but ends up being knocked off the log by Bunga (which results in Zuri wounding her paw and breaking a claw) and uncovers a lair of bugs, to the delight of Timon and Pumbaa. Zuri is grossed out by the bugs but is comforted by Kiara and Tiifu. She along with Kiara, Tiifu, Kion, Timon and Pumbaa dance to Bunga's song "Zuka Zama". Afterward, Kiara sends Zuri back to Pride Rock to rest up.
Zuri along with Tiifu joins Kiara when she, her family, The Lion Guard and several other animals, watch the mashindano between crocodiles Makuu and Pua, which Makuu wins.
Zuri and Tiifu acted as Kiara's "advisers" during her temporary queenship forcing others to acknowledge Kiara as Queen. They later fail on the job when they let Kiara go to a meeting with Janja by herself. This causes Kion to go after his sister, but not before berating Zuri and Tiifu for not doing their jobs.
Zuri along with Tiifu joins Kiara in being trained how to track by Nala. Unlike the others, Zuri is uninterested in hunting (which she considers overrated) and when Tiifu becomes jealous of Fuli hunting next to Kiara, Zuri replies that they should let Fuli hunt for them.
After the training is over, Zuri leaves with Nala, Kiara, and Tiifu.
Zuri and Tiifu try to make Kiara look her best for the Royal Buffalo Wallow, which she is to open on Simba and Nala's behalf. However, the trio end up stranded on a island when a flood strikes the Pride Lands. With the help of the Lion Guard, the trio get off the island and go to the wallow.
Zuri along with Tiifu, Kiara, Simba and Nala, meets Rafiki's new apprentice Makini, who will serve as Royal Mjuzi when Kiara becomes queen. When Kiara and Makini go to help Ma Tembo find water, Zuri and Tiifu attempt to follow them, saying that Kiara can't go looking for water without them. However, Nala (who wishes for Kiara and Makini to get to know each other) stops them and invites them to spend the day with her, to which they agree.
Relationships
Friends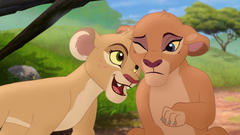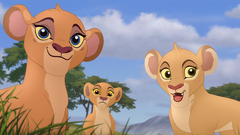 Tiifu and Zuri are besties. They always like to have fun and laugh with each other. They always help Kiara out with her princess and queen duties.
Kiara : Kiara and Zuri are besties. Zuri calls herself Kiara's royal advisor. In "The Lion Guard: Return of the Roar" she was going hunting with her friends and Zuri got her claw stuck in a tree.
Dhahabu : Zuri and Dhahabu are good friends. She loved being her guard for a day. However she didn't wanna be her royal guard forever.
Kuchimba : When the golden mole was screaming Zuri  thought he was scary until he decides to show the group home. Tiifu asked him how he can see in the dark? Kuchimba answers that he can feel the vibrations. Tiifu tells him that she thinks she sees and hears things in the dark. He says that it's her imaginary and she tells that there's Nothing to Fear Down Here.
Acquaintances
Kion : Zuri like Kion is a member of the Pridelanders and is best friends with his sister Kiara. The two clashed in "Can't Wait to be Queen" when Tiifu, along with Zuri, served as an adviser to Kiara during her temporary queenship and made a snide remark at Kion because he wasn't as quick thinking as Kiara and she immaturely relished in her "power" as an advisor. Later, Kion was disgusted with Tiifu and Zuri when they allowed Kiara to meet with Janja alone as they believed she would be okay on her own.
However in "Fuli's New Family," Kion is seen smiling at Tiifu as she practices hunting, perhaps hinting that Kion and Tiifu made up with each other after he and Kiara returned to Pride Rock.
Bunga : Zuri and Bunga are on good terms. In "The Underground Adventure" Bunga came to the hot mud pots to help protect the girls.
Fuli : Fuli and Zuri are on good terms. At first, Tiifu becomes jealous of her in "Fuli's New Family"  complaining about Fuli hunting beside Kiara and thinking that she is Kiara new best friend. In "The Queen's Visit" the girls worked together to protect Queen Dhahahbu however Tiifu and Zuri didn't want to be Dhahahbu's guards forever. They explained to Fuli that they couldn't leave Kiara since she's their best friend. When the jackals came to eat Dhahahbu, Tiifu and Zuri asked Fuli about what to do to help. She told them to stay by the queen. They all become good friends after that.
Simba And Nala : Zuri is on good terms with Simba and Nala. She is always seen with them.
Makini : Zuri is rather indifferent to Makini. Shortly after being introduced, she showed incredible jealousy when Kiara addressed the mandrill as her future advisor, prompting an angry response from her, who claimed that she was her royal advisor. This animosity was soon dropped when Nala offered to spend time with her instead.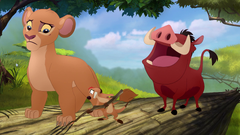 Zuri, TImon and Pumbaa are good friends. They help get her claw out of a tree. Zuri even  performed in "The Twelve Ways of Christmas" as 6 lions leaping.
Enemies
Reirei's Pack : Zuri hates Reirei's Pack since they tried to eat her.
Kiburi's Float : Zuri hates Kiburi's Float since they tried to eat her.
Gallery
Trivia
Zuri is the third lioness in The Lion King films to have blue eyes. The first being Nala (though her eyes are green/blue in the first, blue in the second film and green in the third film) and the second is Vitani.
The parents of Zuri and Tiifu were not revealed. Though it is possible that their mothers are among the lionesses that appear in "The Ukumbusho Tradition".
In the end of "Day of the Crocodiles," it is hinted that Zuri might have a crush on Kion.